What to pack for first time skiers
We're all used to packing for a standard holiday, but when you're off skiing, it's vital that you have the correct gear.  The list is pretty much the same for children as it is for adults; for first-timers or seasoned skiers.
The main difference between this and a normal summer holiday is that your suitcase is full of large bulky items, so don't leave it until the night before to check if your suitcase is big enough to contain all those thermal leggings and woolly fleeces…  and don't even contemplate buying your own skis, poles and ski-boots if you are first-timers!
And don't bother packing best clothes.  They're wasted in a ski resort and you need all the space you've got for extra socks, gloves and hats!
PACKING CHECKLIST
The FamilySkiNews packing checklist contains everything your kids need to ensure a great snow-based holiday:
Thermals
Thermals form a vital underlayer of clothing for providing warmth. The general rule with ski-wear is to put on several thin layers, which can be reduced/increased as the weather changes.  Thermals form your constant base layer – their wicking fabric draws moisture away from the body, keeping your little ones snug and dry.  If this moisture cannot escape they will feel chilled.  Rather than fork out for expensive thermal long-johns, tights and leggings can reduce costs on your bottom half, but FamilySkiNews recommends proper long-sleeved thermal top layers to reduce the chill factor when your child sweats. They don't have to be purchased from pricy specialist sports shops.  Some large supermarkets now sell good value thermals as well.
Fleeces
One (or, at the height of winter, even two) thin fleeces on top of your thermal layer provides excellent insulation beneath your waterproof ski jacket.   Bear in mind, however, if your child is spending time indoors in a crèche, they tend to be very warm, causing your tinies to overheat unless they (or the crèche staff) have been instructed to strip off a layer or two.
Ski socks
You simply can't have too many pairs of ski socks. A minimum of two pairs – one pair on and one pair drying!  Special ski socks with a proper hell and strategic padding are generallyl better than tubular socks.  These should be snug-fitting – not too tight, nor too loose to slip down and cause lumps and bumps to rub inside their ski boots.  Avoid wearing two pairs of socks for extra warmth: not only are you increasing the chance of pressure points for blisters but, unless both pairs are moisture wicking, they will have cold, sweaty feet.  Also, if there's room for two pairs of socks, its quite likely that their skiboots are not correctly fitted either!   See FamilySkiNews Boot Fitting Advice for more tips.
There are plenty of fun designs for kids.  They're not cheap, so add them onto your children's Christmas present list… or on a letter to Santa!
Ski jacket/Snowsuit
It's vital to have suitable outer-wear for skiing and worth spending money to get this part of your child's skiing wardrobe right: they need a good-quality waterproof jacket (with taped seams) in a breathable fabric.  They can build up quite a sweat while skiing and toboganning and if this moisture can't escape, they will quickly feel chilled.  Make sure the jacket has an elasticated snowskirt and adjustable cuff tabs to minimise the amount of snow getting inside the jacket after a tumble.  A built-in hood is also useful, plus pockets for your liftpass and other winter essentials (tissues, lip balm, suncream, etc).
All-in-one snowsuits work best for tinies and toddlers.  Some are especially designed to aid nappy-changing!  Bring two snowsuits ideally,  as one is likely to become sodden after tobogganing or snowballing.  Borrow from friends if possible, or hunt for an ebay bargain.  Otherwise, it'll probably only get one or two weeks' wear before they grow out of it.
Whether you choose a snowsuit or a ski jacket, make sure your child has plenty of movement.  Can they swing their arms and bend their knees?  Make sure their movement is not restricted.
Salopettes
As with the jacket, it's imperative to have quality outer garments.  You need fully seam sealed waterproof and breathable ski trousers with inner gaiters to stop the snow coming in.  If your kids are beginners, it's worth hunting out a pair with extra fabric on the knees and bottom to give them more protection when they fall.
Gloves
As with the socks, you can't have too many pairs!  It's important to have good quality too, as their fingers (and toes) are often the first parts to suffer from coldness on the moutain. Make sure your kiddies' gloves are warm, waterproof, padded (to protect against injuries), with good grip, sufficient insulation, and long enough to cover the wrist. The gloves should be snug but not too tight, to allow some airspace within. There should also be a buckle or velcro strap fastening at the wrist to prevent heat escape.
If you child is especially prone to coldness, you might consider gloves with inner, detachable fleece mittens for extra warmth.  Older children might benefit from a pair with a special pocket in which to slip a handwarmer.
Tinies will find mittens are warmer than gloves, and easier to put on.  For toddlers, it's a good idea to attach the gloves/mittens to a length of string or elastic, to thread through the sleeves of their jackets so they don't lose them.  Some gloves already have a 'don't-loose-them-cord' attached, and even a handy nose-wiping strip on the thumb!
Goggles
Goggles are essential to protect your childrens' eyes from the glare of the sun reflecting off the snow and the ultraviolet rays, and to form a snowproof seal around their eyes on snowy days.  In bad weather, you need a decent pair of goggles so you can see where you're going!  High quality, wrap-around sunglasses are also useful on the nursery slopes if the weather is fine.
Helmets
The Ski Club of Great Britain recommends that all children under 14 should wear a correctly-fitting ski helmet, and in some resorts helmets are mandatory for children, especially in Italy.  You can rent them in resort together with your other ski equipment (boots, skis/boards/poles, etc).  Some tour operators provide them for free. Cycle helmets are not suitable for skiing or boarding.   For more information on helmets, and tips on how to convert reluctant helmet-wearers, see our feature on Helmet safety.
Snow Boots
Let's face it, we all like tobogganing… and there's nothing worse than freezing cold feet.  Wellies are simply not man enough for the job – they are too cold and have poor grip.  A pair of chunky snowboots are the best footwear to keep your children's feet warm and dry when they play in the snow, to provide good grip in icy conditions  and in general for wearing round the resort.  FamilySkiNews recommends getting your kids to travel in them, as they are bulky to pack.
'Too-cool-to-roll-in-the-snow' teenagers can probably get away with sturdy waterproof walking boots (but be forewarned – they usually end up tobogganning too!).
Hats
Woolly hats are useful for general snow-play, when helmets would be too cumbersome, also for evenings out.  However FamilySkiNews recommends putting toddlers into their ski helmets when toboganning!  It is a good idea to pack the woolly hats into your hand luggage in case it is cold or snowing during your transfer from the airport to the resort.   Pack a spare, in case one gets drenched in over-zealous snowball fighting.
Scarf or neck warmer
If it's bitterly cold, you will be glad to have a scarf round your neck.  Comfort is the key: fleece or silk are best, as wool can be a bit abrasive.  Neck warmers are excellent, as there are no loose ends to flap about as you whizz down the slopes and you can roll them up over your chin or nose if it gets really chilly.
Rucksack
A small rucksack is vital for kids – not for skiing but for carrying all the bits and bobs to their creche or ski school.  This should contain a spare pair of gloves and socks, a woolly hat, a change of clothes, a snack, a drink, sun glasses and sun cream.
Sun cream
It is very easy to get sunburnt in the mountains, due to the high altitude and reflection from the snow – even in thick cloud – and no vacation is fun with sunburn.  Children are particularly vulnerable to the effects of UV radiation.  Your usual summer sun protection is not sufficient in the mountains.  Make sure your children's faces are protected by high factor products specifically manufactured for skiing conditions.  The Piz Buin Mountain range, for instance, is specially formulated for high altitude conditions, with advanced UVA/UVB sun filters and a special 'cold shield' moisturisation complex to protect the skin from the extreme cold.
All-day sun creams – such as Spirig Daylong Ultra (available in Switzerland) and Riemann's P20 (available at most airports, though not yet in the USA) – form a good base protection layer if your child is too young to reapply their own cream during the day.  You should then add your usual mountain sun protection on top.
You can read more about why your skin needs special care in high altitude conditions in our Safety in the Mountains feature.
Sun block sticks are better than sprays as you don't have to take your gloves off when you want to put some on.
Lip Balm
As with the sun-cream, make sure you choose a balm with a high SPF.  Many companies sell handy pocket-sized combo tubes to fit in your ski jacket – one end contains the cream, the other has the lip salve attached.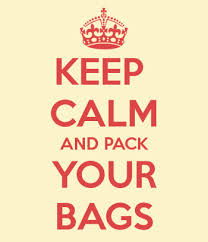 Après-ski clothing
It's easy to pack too many non-skiing clothes when, in fact, your children will probably spend most of their 'après-ski' time playing in the snow dressed in full ski-kit and snowboots toboganning, or knocking around the chalet in their fleeces and long-johns.
If you have young children, nights out in the resort are seldom, unless you're in a like-minded crowd who are happy to work out a baby-sitting rota.  Bear in mind that after a day of exercise and exhilarating alpine air on the slopes, you may be too tired anyway.  Before you know it, you'll be snuggled up in your favourite fleece by a log fire with a glass of wine in one hand and a good book in the other… and absolutely no plans to go out whatsoever.
Slippers
There's nothing toastier than slipping on a pair of comfy slippers after a day in rigid ski-boots.  Some companies don't let you wear shoes in the chalet so, unless you want to spend your evenings sliding around in ski socks, slippers are a must.
Equipment for very young children
Most companies are able to provide such essentials as buggies, cots, sterilizers and highchairs, but do be certain to ask before you travel.  If not, contact the local tourist office in the resort as there are an increasing number of companies now who can arrange for such bulky item to be delivered to your accommodation.  If you're transferring to the resort by hire car, make sure you pre-book car booster seats or pack your own.  Families with babies should also pack:
feeding bottles
milk formula
nappies and wipes – it's worth packing your usual brand of disposable nappies in your luggage as they will be much more expensive in resort, if available at all.
baby creams and medications – take sachets wherever possible to avoid unnecessary weight and potential mess with spilt or broken bottles.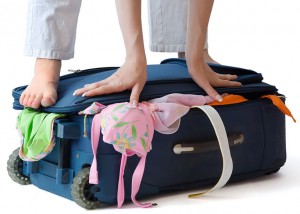 Oh… and don't forget all the usuals:
Passport (and photocopies, in case you lose them!)
Tickets
Transfer details
Money
Credit/cashpoint card (plus card company contact numbers in case you need to cancel them for any reason – theft, loss, etc).
European Health Insurance Card
Travel Insurance documents (make sure you're covered for snow sports)
pants
toiletries – tooth brush, toothpaste, hair brush, flannel, soap, shampoo, etc.
towel (if not provided)
medicines – sachets of calpol, ibuprofen and cough medicine; arnica for bruises; and a deep heat muscle rub suitable for use on children
tissues
books, games, DVDs, MP3 player, etc
camera
… plus a few extra (lightweight) items well worth considering:
wet wipes
hand gel
sachets of calpol, ibuprufen and cough medicine
plug adapter
plug-in battery packs – there's nothing more frustrating than a flat iPad when you're delayed at the airport.
swimming kit – if your accommodation has a pool, sauna or hot tub, or if the resort has a public pool or spa facilities.  Don't forget the kids' goggles!
scarf or pashmina – in case little ones get chilled by the air conditioning on the plane.
a picnic for the transfer journey.
snack bars and sweets – for the journey and once in resort – for daytime energy and to spur on tired children.
dental floss – as well as keeping your teeth healthy, it's thread for sewing up torn clothing; an emergency shoelace; a temporary washing line….
duct tape – for fixing everything that dental floss doesn't…. and it's waterproof!
plastic toboggans – but check first, as they may well be provided at your accommodation
KEEPING COSTS DOWN
If you're going on a skiing holiday for the first time, buying all the skiwear can be expensive, especially for youngsters who will no doubt have outgrown everything by next year.
Keep the costs down by:
*borrowing kit from friends who ski.  Most people are glad to lend you their ski clothing, especially such items as long-johns, salopettes and snowboots which don't get much wear before kids grow out of them.
*buying kit in advance, in the end-of-ski-season sales in April.
*purchasing second-hand, on ebay for instance.  Start looking the previous summer for real savings.  By the autumn, everyone's got the same idea and there are fewer bargains.
*buying from online retailers.  Many online retailers sell clothing and equipment at prices far below the high street stores.
*getting everything before you leave.  Resorts mark up their clothing for their captive audience – right down to the smallest items (socks, gloves, lip salve… even sweets, energy bars and juice cartons).  They work on the simple theory: if you don't have the right kit, you just can't ski!
*sewing names tags on all your children's ski wear.  There's a better chance they'll come back from ski school and other escapades in their own kit!