Wanted: Kids on snowboards
In recent years, numbers of youngsters snowboarding has been falling, especially in Europe.  Snowboarding seems to have lost some of its appeal.  Yet, just as skateboarding continues to be a massively popular with tweens and teens in the towns, so snowboarding should have great potential for attracting kids to the mountains.
Here FamilySkiNews.com looks at two key issues: Why the decline?… and what is the ski industry doing to reverse this recent trend?
Why are fewer youngsters are taking up snowboarding?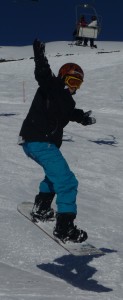 Snowboarding has lost its edge. Ten years ago, when it was new, cool and edgy, it appealed hugely to youngsters as the only real alternative to classic skiing. Andy Threimer of K2 summed it up in Boardsport Source magazine: "We kind of lost the hype – which is absolutely normal. When non-snowboarders see snowboarding footage nowadays they no longer get the "wow, that's totally new – I gotta try it" vibe that used to attract so many new participants…. Everyone can snowboard these days."
Cost. Families encourage kids to stick with skiing as a second set of snow equipment is expensive. Lessons are expensive, and there is a lack of snowboard clubs compared with ski clubs.
Risk.Scaremongering injury statistics, plus rumours that kids should not start boardings before the age of 13, as their bones might not be strong enough. Interestingly, a paper in the American Journal of Sports Medicine (published in January, 2012) claims that risk of injury in snowboarding is not greater but, in fact, comparable to alpine skiing, although there were differences in injury patterns between snowboarders and alpine skiers. Click here for FamilySkiNews's full summary of the report.
Freeskiing. The development of freeskiing has reduced the number of snowboarders: some shredders have graduated to freeskiing; newcomers are choosing skiing over snowboarding now freeskiing has developed a similar image to snowboarding and is the new craze.
What is the ski industry doing to encourage young shredders?
Kit: Manufacturers are now developing new boarding products specifically for little kids. Burton and K2 both produce beginners' snowboarding products for young shredders. There is also an increasing quality and range of hire equipment available in ski-hire outlets in resort.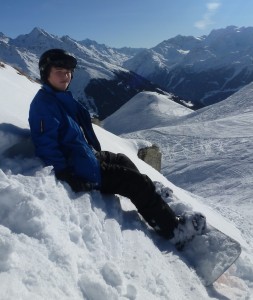 Terrain parks and kids' lessons: Resorts are investing in terrain parks, many with smaller lines for younger or beginner riders, and schools are increasingly offering junior snowboard lessons, especially in America.  Snowboarding is already much bigger in the USA than in Europe, with many resorts offering good junior snowboarding lessons, and investing in bigger, better snow parks, many with smaller lines and jumps for younger or beginner riders.  During America's fifth annual "Learn to Ski and Snowboard Month" this January, one of the key incentives was to encourage young kids to take up snowboarding, with free lessons for young shredders in many resorts, and mini-competitions in the terrain parks.  You can read our FamilySkiNews.com report on Learn to Ski and Snowboard Month and its celebrity ambassadors Bode Miller and Glen Plake here.
Terrain parks are all the rage – once called 'snowboard parks', they now attract skiers too. As soon as kids can master intermediate runs, they're keen to ride the rails and try their hand at mini-jumps and half-pipes.  According to the National Ski Areas Association (NSAA), 89% of their member resorts have some kind of freestyle park or terrain for their skiers and boarders.
Killington in New England creates at least seven parks and a superpipe during the season. Another top US terrain park is at Boreal Mountain Resort in California. Boreal Mountain was among the first American resorts to embrace snowboarding with its extensive all-mountain terrain park, the nation's first floodlit superpipe and Friday night competition sessions specifically for young snowboarders.
Some American resorts have taken small mediocre ski areas and reinvented them as the ultimate play parks. Echo Mountain Park, near Denver has excellent park terrain for all ability levels, but with extra emphasis on small, entry level progression terrain. It's a great destination for first-timers in a park, but there are also plenty of intermediate and advanced features too. Whaleback Ski Area in New Hampshire has made a comeback with its emphasis firmly on freestyle and boarding, with popular ride camps for kids.
In Europe now, an increasing number of ski schools now offer good junior snowboard lessons, compared with several years ago when there was very little for young shredders. Top European boarding destinations include Les Gets and Morzine. Both part of Les Portes du Soleil (the largest ski and snowboard area in the world), they offer plenty of easy slopes and a friendly outlook towards boarders. Les Gets even has its own beginner/intermediate snowboard park.
Laax in Switzerland is considered one of the most snowboard-friendly places in Europe, with two terrain parks, a halfpipe and scene of numerous international boarding competitions. Also in Switzerland, the car-free resort of Saas Fee with its boarder-cross and halfpipe appeals for year-round riding. In the summer and early in the season, lots of pro-boarders and skiers head here to train on the glacier.
Hopefully, as freestyle grows in popularity, and junior snowboarding lessons become more readily available, the ski industry will be able to inspire more youngsters to get shredding – like the astonishing three-year-old Wesley Muresan from Colorado featured in this You Tube clip:
If you're planning a trip to the mountains this season, make sure you have appropriate, up-to-date, fully-comprehensive winter sports insurance cover.  Readers of FamilySkiNews.com are entitled to 10% off winter sports insurance with ERV.  Book it here, using promotional code FAMILYSKI10 to receive your discount.
And don't forget to use FamilySkiNews.com's special SkiSet link to hire your skis/boards, helmets and boots – it will give you a massive saving of 45% off hire of all ski and boarding equipment.