Big Air in the middle of an old factory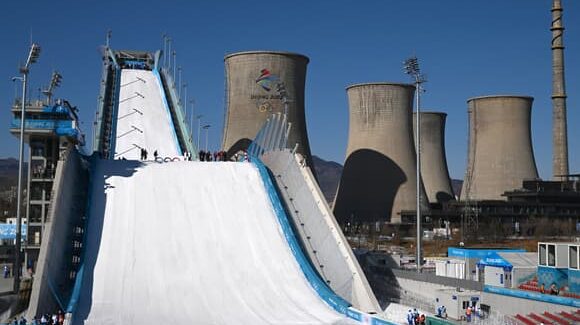 Bejing's Big Air competition is located in the middle of a former industrial area in Beijing.
Unlike the usual pretty mountain landscape for snowsports, this giant snowclad springboard stands in the midst of old factory cooling towers, at the heart of a former industrial zone.
The venue is on the site of a huge, now-derelict steelworks, in its day the first production site in the country. The complex, once employing tens of thousands of workers, closed down in 2010, leaving a legacy of towers and chimneys. One of the giant grey towers, 70 meters across, reads "Beijing 2022".
Add to this the Olympic Rings, giant scaffolding stands, and loud speakers blasting out techno, and the stage is set for those skiers and boarders to flip, spin and put down their epic stunts.
Qualifications for the Big Air competition begin overnight on the Big Air Runway from Sunday to Monday.