The FamilySkiNews.com team is based in the UK and in the Alps.  We also have a team of freelance reporters dotted around the snow-globe! 
TERESA FISHER, Founder and Content Editor
The FamilySkiNews.com team is headed by travel writer and photographer, Teresa Fisher.  A keen skier since childhood, her lifelong passion for the mountains led her to Bavaria and Switzerland where she lived for many years, skiing the Alps virtually every weekend… even during the summer!
In 25 years of travel research, she has visited over 250 resorts across the Alps, the Pyrenees and in the United States– in recent years with her young children in tow.
Her two boys, George and Timothy, first came on ski trips with her when they were just 2 ½ and 3 years old.  They both started skiing aged 4 and now, after several years of ski schools and lessons, they attend regular dry-slope race training and both ski for their school team in local leagues and in national ESSKIA (English Schools Ski Association) events.
Teresa is already an established journalist, an author, and a National Geographic Expert and lecturer.
She has written six childrens' books, numerous web guides and over 25 guidebooks, many located in Alpine regions – including Thomas Cook Pocket Guides to Geneva and Zurich; the Columbus' Ski Guide to Verbier; Frommer's Day By Day Vienna; AA Citypack Munich; and National Geographic's Traveler Switzerland.
This season she is continuing her search of the ultimate Alpine family holiday, and will be providing regular updates on the News section of FamilySkiNews.com.
EMMANUEL VERMOT, Swiss Reporter and Photographer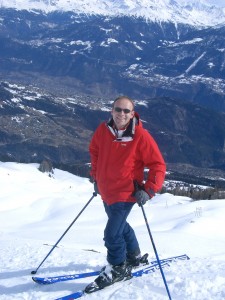 Emmanuel Vermot was born on skis (well, almost)!   He lives just outside Montreux in Switzerland, a short drive from numerous resorts (including Villars, Verbier and Les Portes du Soleil) and so he is 'Our Man in the Alps'.   We have skied together frequently for over two decades.  In our BC ('before children') years, we used to ski a different resort each weekend – even in summer, high on the glaciers.  A true explorer at heart, he has also skied in such far-flung places as Iran and Argentina.  Now, with two infants, Emmanuel spends much of his time tobogganing, snowball-fighting and snowman-building.  But he is also an expert at finding good childcare, so that he can pop on a pair of skis and head up the slopes…
SARAH BROOK, Medical Advisor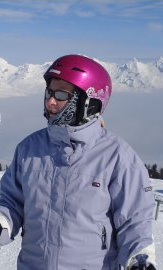 Everyone should take Sarah on holiday with them… (and preferably her three children and husband too, who himself is a 'walking crèche')!  She is easily the best-organised person we know – highly practical, and always one step ahead of the rest of us.  She's the one who tracks down the best bargains and the cosiest chalets for us.  When we ski together, it's always Sarah who sorts out all the incidentals in resort: from coordinating the local supermarket delivery; arranging childcare; and finding the best rental deals through to reserving tables for lunch on the slopes.  And, of course, it's always handy to have a doctor in tow (with a ski jacket full of Calpol and plasters) for all those bumps and bruises on the slopes!…
CARL DOWNING, Travel & Transport Advisor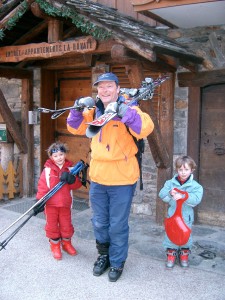 Carl Downing has flown commercially for a number of airlines for 12 years, and is therefore our advisor on airport, airline and general transport news.  A keen skier, there's nothing he enjoys more in winter months than having someone else fly him to the mountains, switching off his Blackberry and skiing with his two young boys… oh, and an après ski beer or two.
PETER DERRICK, Financial Advisor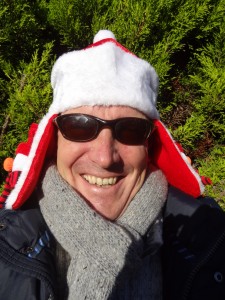 It's hard to keep Peter away from the Alps.  If he's not cycling up the mountains, he's whizzing down them on skis.  A banker by trade, he always has a keen eye for a ski bargain, and is full of tips for how to keep costs low on family holidays.  His two children are not especially keen skiers so Peter is also (by default!) our expert on après-ski and non-skiing family activities.
KATIE CAMPKIN, our teen-ski correspondent 
A university student, fluent in French and Spanish, and attached to the slopes from an early age thanks to her wonderful parents, Katie is both an avid skier and snowboarder. Aged 21, she has undertaken a couple of ski trips solely with friends yet is still just about inviting herself along on family ski holidays too.  This means she's perfectly positioned to weigh up the benefits and disadvantages of both!  She has superb knowledge of several alpine resorts, from the best après-ski spots to the unmissable glacier runs after a fresh snowfall.
BRIONY KEY, roving reporter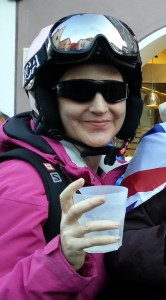 There's not much Briony hasn't tried her hand at… she's been a dresser with the Royal Shakespeare Company; a PR for the World Salsa Champions; and she's hooked on surfing in Cornwall… surprisingly therefore, when it comes to the white stuff, she's a skier not a boarder.  Whenever she manages to escape from her day job of counter terrorism and crime prevention, Briony spends her free time on the slopes and writing for ski press.  She's a regular contributor to FamilySkiNews with her family-focused resort guides.
If you would like to write for us, or get some of your family ski photos published, please send samples for the attention of teresa.fisher@familyskinews.com