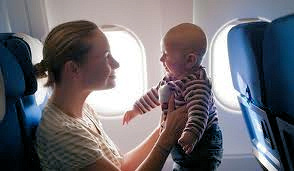 Travelling with babies isn't everyone's idea of fun…. but don't let it put you off booking your family ski holiday. With some forward planning, it's possible to travel in safety and comfort with minimum stress.  Whether you're travelling with your baby by plane, train or car, follow these tips for a stress-free journey:
Your baby will need their own passport, which is valid for five years.
It's easy to pick up all essentials for your journey in just one shopping spree at the supermarket these days.  Make sure you have:
1) a changer bag large enough to fit all your baby-changing items, a changing mat, feeds and a change of clothes.
2) a light-weight, sturdy push-chair
3) toys
4) books
See our feature Flying with little ones – hand luggage essentials.
BY TRAIN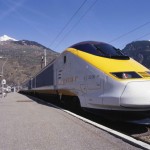 Did you know that all rail companies allow two under-fives to accompany each fare-paying passenger free of charge in theUK?  You can also take a pushchair free of charge.
BY CAR

It's important to choose a car seat that's suitable for your baby's weight and size, and also that's compatible with your car.  Halford offer a free specialist car-seat fitting service.  Some seats come with an integral body support cushion and sun canopy.   All babies should start off in rear-facing child seats, but they should never be used in a front passenger seat with an airbag.
To keep your eye on your baby in the back, fix up a Bright Starts Car Mirror – it allows you to check on your baby without turning around while driving.
If you don't have built-in sunshades, keep baby cool with side window sunshades to shield their skin and eyes from the sun.
CDs – as your baby gets older, playing nursery rhyme CDs will help keep boredom at bay on long car journeys.  Our kids love classical music too – it soothes them and helps them go to sleep.
BY PLANE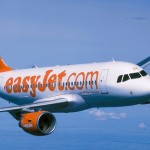 Flying with a baby is less hassle than you might think.  The NHS advises that it's best to wait until your baby is more than two weeks old.  And, if you're expecting a baby, not to travel after week 36 of your pregnancy or 32 weeks if you're expecting twins or multiples.  However, whatever the stage of your pregnancy, you should always consult your doctor or midwife first.
Most airlines allow babies under two years old to travel free of charge, but check with them for details.
Some airlines will let you reserve a roomy seat at the front of the plane, and provide a bassinet or travel cot.
Babies don't usually have their own baggage allowance, so it's a good idea to take travel-size products to keep their kit to a minimum.  Johnson's Take Along Pack is ideal and includes shampoo, baby wash and lotion.
Baby food, milk and sterilised water (in a baby bottle) can be included in your hand baggage, so keep it near the top of your bag as you may be asked to verify it by tasting.  You're allowed to take enough (within reason) for the journey and most airlines waive the 100ml liquid restriction.
If you're staying in a resort/apartment/hotel with a swimming-pool, don't forget to pack a swim nappy, or a supply of disposable ones such as Huggies Little Swimmers.  You may also wish to pack armbands and/or float seat to boost your tot's confidence in the water.
FEEDING ON THE MOVE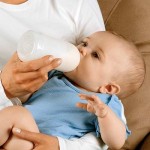 Plan for delays – it's better to take too much baby food rather than have a hungry, grizzly baby to cope with.
Read-made cartons of formula are quick and convenient – just transfer them into sterilised bottles.
If you're breast-feeding, take a shawl to give you some privacy and protect your baby from distractions.
If you're travelling by plane, feeding your baby just before take-off and landing will combat painful ear-popping.
Snacks are also a handy distraction, if your tot can feed themselves, pop some favourites into a small container.
Other related stories:
Entertaining the kids en route
FSN's top 5 tips for airport parking
Tips for stress-free flying with kids
Train travel to the Alps
What to pack for first-time skiers
Keeping costs down