The hills are alive with the sound of Bollywood
The hills are alive with the sound of Bollywood… at least, in Switzerland they are.  Somewhat surprisingly, India is one of Switzerland Tourism's biggest growth markets… and it all centres of the ski resort of Engelberg.  
"Climb every mountain"… as the song in the well known film goes, and what do you find at the top?…a cardboard cut-out of some Bollywood actors?  Surely not!
But in the Swiss ski resort of Engelberg, i's exactly what you'll find atop Mount Titlis, as you jostle your way out of the revolving cable car alongside dozens of eager Indian tourists.
Join them to take photos alongside their beloved star-crossed idols of the 1995 blockbuster Dilwale Dulhania Le Jayenge  (The Brave Heart Will Take the Bride), dubbed "DDLJ" by die-hard Bollywood fans and others in the know.  Then set out to walk along the highest suspension bridge in Europe, also at the top of the Titlis – 98 metres long and dangling 300 metres in the air between two mountain faces.  We recommend you delay your crossing until the Indian party has departed – too many people on the bridge, and it starts to sway precariously.  If they start dancing Bollywood fashion, you won't stand a chance!..
These are just two of the highlights of a tour to Engelberg… if you're Indian and on the Bollywood tour, that is.  Most Europeans head to Engelberg to ski.  After all, the resort has an long and esteemed reputation for advanced skiers, powder hounds and free-riders.
But, astonishingly, more Indian, non-skiing tourists visit Engelberg than skiers from Britain.  Around 3 times as many.  Most visit in the summer – they don't come to ski – and the number of nights spent by Indian tourists has doubled in the past decade.  According to Switzerland Tourism's statistics, Engelberg is the most popular resort with Indian guests, with over 600,000 visitors in 2014 – that's up from 468,000 in 2013, and the trend is continuing to rise.  Teresa Fisher, the FamilySkiNews editor, visited to investigate the Indian fascination for Switzerland.
For years Bollywood's producers and directors, based in Mumbai (formerly Bombay – hence the name) have favoured the pristine backdrop of Switzerland for their films, and especially Engelberg.  They've discovered that it's easier and cheaper to fly cast and crew to the Swiss Alps than it is to battle with local bureaucrats for permits to film in the Indian or Nepalese Himalayas.
They've also discovered that their viewers love the European element of their hugely successful Bollywood movies. As a direct consequence, dozens of tour groups are paying large sums of money to visit Engelberg and other Alpine film locations, following in the footsteps of their film-star idols.
Why Engelberg? Well, it's less than two hours transfer from Zürich airport, the scenery's dramatic and beautiful, and there's guaranteed snow cover atop the Titlis year round.  Scenes from many Bollywood films have been shot on Mount Titlis, and neighbouring Mount Hahnen.  Titlis may not have the picture-postcard looks of the Matterhorn, or the prestige of the Eiger, but it's easily accessible – aboard the brand-new high-speed Titlis Xpress cablecar and then the Rotair rotating cablecar, which whisks you from village level (1050m) right up onto the Titlis glacier (3028m) in under 30 minutes.
The village itself is charming and characterful, with its grand belle époque hotels, including the landmark 1905 Terrace Hotel (popular with Indian groups) perched on the hillside overlooking the resort; and its 12th-century abbey, with the biggest church organ in Switzerland and regular cheese-making demonstrations at its dairy.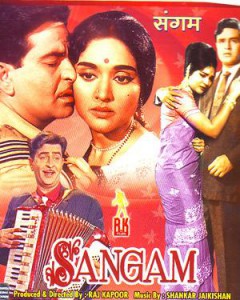 It's hard to believe that the Indian connection began here half a century ago, with the film Sangam (Confluence), a romance directed by Raj Kapoor, still considered a classic in India today. It was ground-breaking as the first time an Indian movie had been shot outside India – scenes were filmed in Switzerland, London, Paris, Rome and Venice, and it started the Bollywood trend of shooting song sequences abroad.  Thanks to Bollywood's love of romantic songs and dreamy backdrops, the snow-capped peaks of Switzerland soon became a favourite.
But it was Yash Chopra, the greatest of the Bollywood filmmakers, who really set Switzerland on the map as a go-to destination for Indians visiting Europe.  Beguiled by the landscapes whilst honeymooning in Switzerland, he promised his wife he'd use the country for at least one romantic song or scene in every  movie he made. In acknowledgement of this, Jungfrau Railways named a train after Chopra, and the Launensee lake (near Gstaad) where he shot many scenes, is known as Yash Chopra Lake.  Most of the Swiss sequences are dream scenes in which lovers skip through alpine meadows or cavort in the snow, usually dressed in highly-unsuitable, flimsy Indian garb.
Over 200 Bollywood films have used Switzerland as a backdrop in the past couple of decades alone, as it was safer to film here than in unstable Kashmir. Titles include An Evening In Paris, Biwi No. 1, Deewana Mastana, Don 2, Dulhan Hum Le Jayenge, Kabhi Khushi Khabi Gham, Mujhse Dosti Karoge and Yes Boss, with Engelberg, Gstaad, Interlaken, Montreux and Luzern as top destinations.
While the films have clearly created a immense fascination for all things Swiss, and although the country continues to be hugely popular with India's touring population, we can't help wondering how long this Indi-Swiss-mania can be sustained.  Indian filmmakers are starting to experiment with new European destinations:  Switzerland remains a favourite but, after fifty years of filming, the novelty of Swiss backdrops is fading.
Dilwale Dulhaniya Le Jayenge (The Brave Heart Will Take the Bride), a hugely popular Swiss-Bollywood movie (produced by Yash Chopra and directed by his son Aditya Chopra) – hence the cardboard cutout atop Mount Titlis.
The film stands for "love, romance and freedom – all things associated with Switzerland" explains Rohan Kumar, who I met in the Rotair cablecar, his nose pinned to the window to guarantee he sees every inch of the 360 degree ride to the top.
I ask Rohan if he's going to try skiing during his visit.  "No way." he laughed.  "We're here to experience the beauty of Switzerland."
He was nearing the end of a whistle-stop tour of Switzerland, visiting film locations and Engelberg was the climax of their tour.  Between destinations, his group (which ranged from 10 to 80 years in age) was travelling by bus, and watching clips of films, singing along to soundtracks and competing in Bollywood trivia quizzes.  His final evening was to be spent in Engelberg's very own Indian restaurant – the Spice Bazaar in Hotel Central.
Here's the trailer for the film Dilwale Dulhaniya Le Jayenge.  A young man and woman meet during a trip to Switzerland but, only after the girl's father takes her back to India for an arranged marriage, their love emerges.  The lead roles are played by Bollywood icons, Shahrukh Khan (Raj) and Kajol (Simran):
And here's our Editor standing atop the Titlis beside Raj and Simran: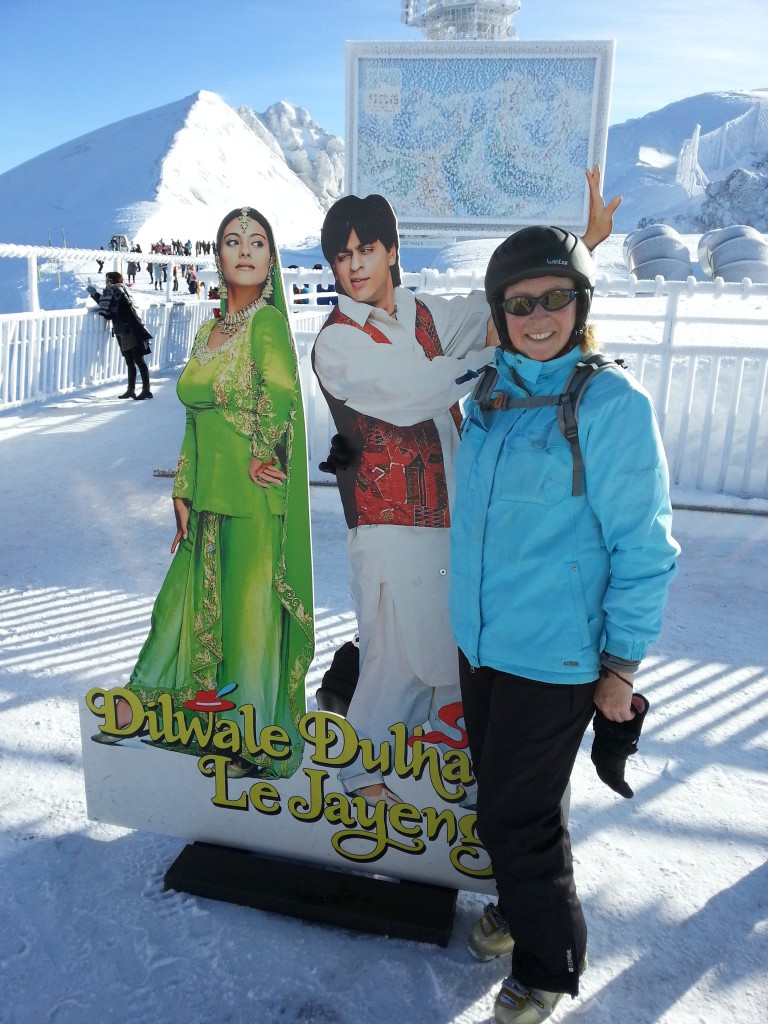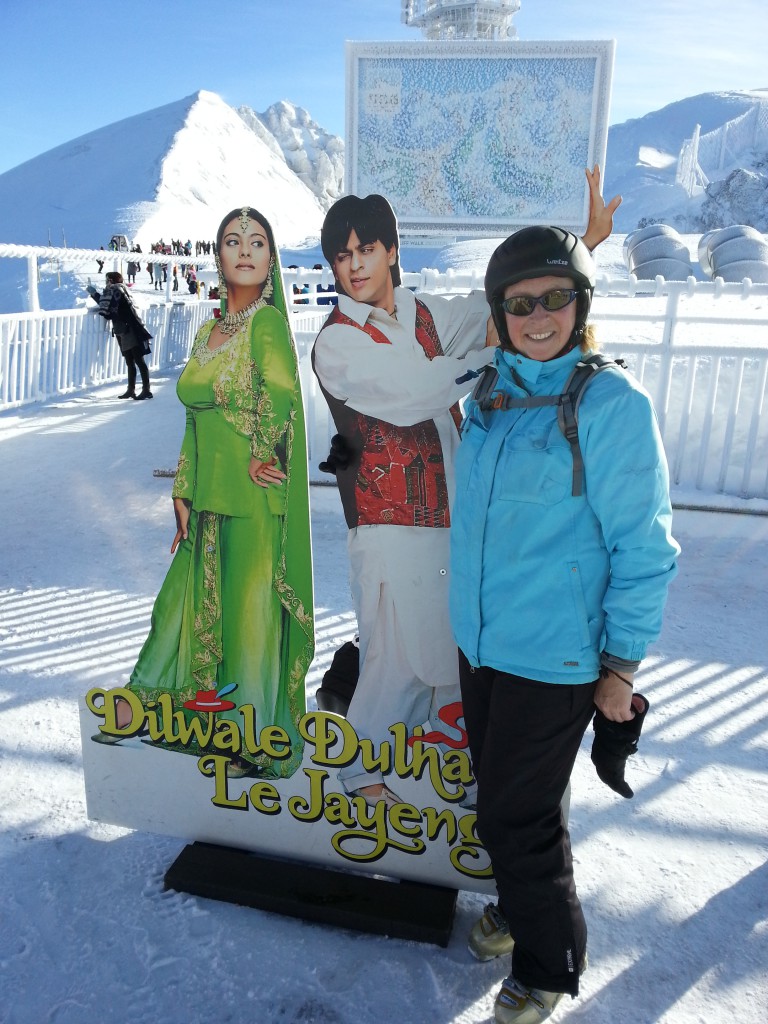 Bizarrely, the film wasn't even shot here, and director Aditya Chopra has never even set foot in Engelberg.  Nevertheless, such is the Indians' passion for Engelberg and Bollywood's beloved Titlis mountain, no one seemed to mind.  Like Rohan Kumar, they were all far too busy posing for snapshots, imitating their heartthrobs… and, of course, looking forward to their Swiss curry that evening!
Teresa Fisher travelled courtesy of Switzerland Tourism, Crystal Ski/Flexiski, Swiss International Air Lines and Swiss Travel System:
Switzerland Tourism: For more information on Switzerland visit www.MySwitzerland.com or call our Switzerland Travel Centre on the International freephone 00800 100 200 30 or e-mail, for information info.uk@myswitzerland.com; for packages, trains and air tickets sales@stc.co.uk.
Crystal Ski/Flexiski: For a seven-nights' stay – Crystal Ski Holidays (www.crystalski.co.uk; 020 8939 0726) offers one week half board at the three-star Hotel Terrace from £745 per person (based on two sharing) including six-day lift pass, flights from London to Zurich and train transfers.
For shorter duration – Flexiski  (020 8939 0864;  www.flexiski.com) offers a 3-night stay  at the Hotel Terrace with breakfast and two day lift pass from £493 per person (based on two sharing) flights from London to Zurich and train transfers.
Swiss International Air Lines
UK to Zurich: SWISS offers up to 115 weekly flights from London Heathrow, London City, Birmingham and Manchester to Zurich. Our fares include all airport taxes: one piece hold luggage and free ski carriage (excluding Economy Light fare). Fares start from £71* one-way (Economy Light fare) and from £86* one-way (Economy Classic fare) (*Please note this is a leading fare and is subject to change, availability and may not be available on all flights. Terms and conditions apply.) For reservations call 0345 990 9161 or visit: www.swiss.com
UK & Ireland to Switzerland: SWISS operates more than 180 flights to Switzerland from London Heathrow, London City, London Gatwick (seasonal during winter), Birmingham, Manchester and Dublin from as little as £38 one-way* (Economy Light Fare only includes hand luggage). The all-inclusive fares start from £54 one-way*, including all airport taxes, one piece hold luggage and free ski carriage.
(*Please note this is a leading fare and is subject to change, availability and may not be available on all flights. Terms and conditions apply.) For reservations call 0345 990 9161 or visit: www.swiss.com.
Swiss Travel System: By road, rail and waterway throughout Switzerland: The Swiss Travel System provides a dedicated range of travel passes and tickets exclusively for visitors from abroad. The Swiss Transfer Ticket covers a round-trip between the airport/Swiss border and your destination. Prices are £94 in 2nd class and £151 in 1st class.  For further details and booking, call the Switzerland Travel Centre on 00800 100 200 30 or visit www.swisstravelsystem.co.uk.