End of season resort finales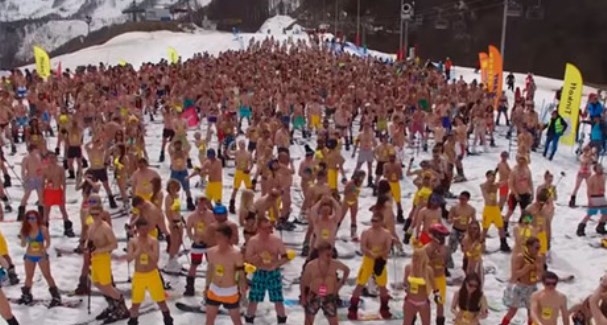 Many resorts end their seasons by the end of March and most by mid-April.  But one thing they all have in common is that they all end their season with a bang… and many have very individual ways of bidding farewell to the ski season! 
Resorts celebrate their season finales in numerous ways.
Some have parties!
Some have races!
Some have crazy games!
Some have all three… as we found out when we joined in the Ortesei Spring Race Party this year – it was riotous and huge fun!  You can read what happened by clicking HERE.
Others hold pop festivals – like the 17th annual Snowbombing week in Mayrhofen, which took place in the Austrian resort on 4-9 April, with headline acts including The Prodigy and Craig David this year.
Then there's Ischgl's Top of the Mountain season closing concert (on the penultimate day of the Tirolean resort's five-month ski season) – coming up on 30 April.
Some resorts try out new gear: the Austrian glacier resort of Kaunertal is staging the Snowboard Spring Break from 30 April till 6 May – a chance for snowboarding fanatics from around the world to gather for a week of partying, jumps, tricks and board/boot/binding testing.
Others hold competitions. One of our favourites took place in the American resort of Vail, Colorado, which staged the World Pond Skimming Championships to mark their season-end on 10 April.
But nobody marked the end of their ski season this year quite like Sochi.  On 9 April, the Russian resort set a new Guinness World Record for skiing in swimwear, with over 1000 swimwear-clad skiers on the piste during the BoogelWoogel Festival at the Rosa Khutor resort, where the 2014 Winter Olympics were staged.
That's surely hard to beat for a season finale?!…