Is Everest safer this year?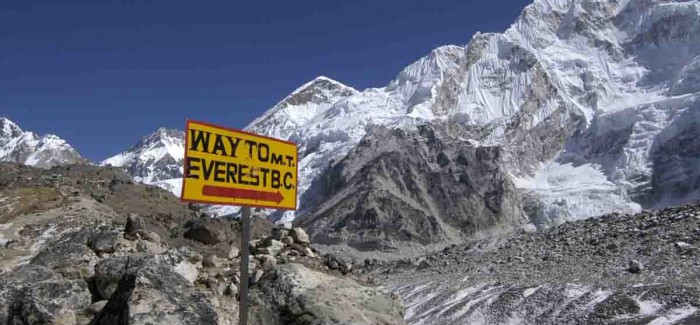 One year on from the massive earthquake disaster in Nepal, the climbing season has begun once again on the world's highest mountain.  Here at FamilySkiNews, we ask: "Is it safe to go climbing there again?" 
There's only a short window of opportunity to climb Everest each year.  Just a few weeks.  And the season has begun.  Everest Basecamp is once more clad in the brightly coloured tents of climbers, all hoping to reach the 8,850m (29,035ft) summit.
But, according to the Trekking Agencies Association of Nepal, "Everest tourism" is down 40% – following the earthquake in 2015, which we reported HERE in our story "Everest's Deadliest Day".
Then there was the 2014 avalanche, also in the month of April, which killed 13 Sherpas and three other Nepali workers.  It abruptly cut short the climbing season.
The 2015 earthquake, on 25 April, had a magnitude of 7.8, and a second tremor 17 days later, and killed a total of 9,000 victims in the Himalayan nation.
It triggered a massive avalanche on Everest, killing 19 people and injuring a further 61 on the mountain.  The Sherpas refused to rebuild the route of pre-prepared ropes and ladders on Mount Everest and so there were no successful climbs at all last year.
Nonetheless 2016 looks to be a good year for local mountaineering commerce, with 289 Everest permits issued for this season by the local government to foreign climbers, at a cost of $11,000 each.  (Last year 357 permits were issued.)  These mountaineers' fees are sufficient to persuade the many Sherpas to continue risking their lives guiding the climbers.
Will 2016 be a safer year on Everest?  Since last year's disaster, the local authorities have installed officials at Base Camp in an attempt to reassure climbers and encourage them back to the mountain.  Nepal relies heavily on tourism – it's their biggest source of foreign income, usually contributing around 9% of its GDP.  Last year's visitor numbers fell by around 30% (90% immediately after the earthquake).  This year, they hope to recover around 50%.
But Everest – the highest mountain in the world – has always been dangerous.  Over 250 people have died on the mountain since Tenzing Norgay and Edmund Hillary first summited in 1953.  The mountain is as dangerous as it's always been: it's never going to be a walk in the park, to stand on top of the world – but isn't that its appeal?…
Other related posts:
Everest's deadliest day
Ban oxygen for Everest
Indian girl, aged 13, climbs Everest
Everest record breakers – following in the footsteps of Hillary and Tensing Norgay
Everest's 60th anniversary celebrations
Kenton Cool's Olympic Everest pledge
Kenton Cool's feat – first 'Everest Three Peaks'
Overcrowding on Everest
New Mount Everest record