Here at FamilySkiNews.com, we've been celebrating National Ravioli Day (20 March)!  After all, we've all adored pasta parcels ever since that 'delicious' Heinz tinned ravioli in tomato sauce which was a staple of our childhood diets!  And hands up who's kids don't love pasta!…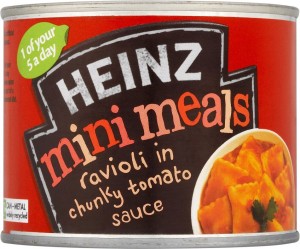 Thankfully over the decades, it has become a rather more sophisticated dish than the Heinz store cupboard staple – but it remains a kiddie favourite as well as a quick, nourishing meal to get your hungry children after a long day at school.
So to celebrate National Ravioli Day, we thought we'd push the boat out and try our hand at making Alpine Ravioli.
But first of all, here are some nerdy ravioli facts for you:  Did you know…
1 The word ravioli originates from the Italian 'riavvolgere' meaning 'to wrap'. 2 Tinned ravioli was pioneered in the 1930s. 3 In Italy, ravioli is traditionally a vegetarian dish. 4 Ravioli filling (without the pasta shell) is known as 'ravioli nudi' or 'naked ravioli'.
Now for that Alpine Ravioli recipe!  It comes from the Heidelberger Hütte high upon an alp in the Austrian resort of Ischgl, courtesy of Michelin-chef Gian Paolo Raschi, and contains porchini mushrooms and ricotta, served with a 'parmesan fondue' sauce.
Although it sounds grand and sophisticated, believe it or not, it's surprisingly easy to make – even for your kids to do – as long as you keep your patience and your parcels large enough!  Take it from us, the end result is truly delicious and (as long as your children eat mushrooms) promises to be a resounding success.
INGREDIENTS
For the Ravioli:
3 whole eggs (for the pasta)
300g plain flour (for the pasta)
200g porcini mushrooms
2 bay leaves
garlic clove, sliced
salt & pepper
1 tbsp olive oil
200g ricotta
For the sauce:
50g plain flour
50g butter
500g cold milk
200g parmesan cheese, finely grated
1 egg yolk
METHOD
1 To make the egg pasta dough, put the flour in a bowl; make a well in the middle, pour the eggs into the well; by hand, work the flour into the eggs until you have a ball of dough. Knead the dough for around 10 minutes until it is smooth and springy in texture when poked.  Wrap with clingfilm and leave in the fridge for at least half-an-hour.
2 To make the filling, slice the mushrooms, season and fry lightly in olive oil with the garlic and bay leaves.  Place a small amount on one side to use later as garnish.  With the remainder, pour off any excess oil, remove the bay leaves, then chop the remaining ingredients to form a rough tapenade-like paste.
3 Strain the ricotta through a fine sieve and mix together with the egg yolk and tapenade-mix.  Scoop into an icing bag and leave to cool in the fridge.
4 To make the sauce, make a roux of butter and flour; add the milk and bring to the boil stirring continuously to avoid lumps forming until you have a white sauce.  Stir in the grated parmesan and egg yolk.  Continue to boil for a couple more minutes until the sauce is smooth and creamy.
5 Roll out the pasta dough (to a thickness of around 1 milimetre) and cut into 8cm squares.  Pipe a small amount of ricotta-mushroom filling into the centre of each.  Brush the edge of each square lightly with water, then fold the squares diagonally to form triangles.
6 Lower them carefully into lots of salted boiling water and cook until they are al dente (approximately 2 minutes).
7 Serve immediately with the parmesan fondue sauce, the fried porcini garnish and a crisp herb salad.
Simple cheat: if your kids don't like the parmesan fondue sauce, either substitute the parmesan with cheddar or cook up a simple tomato sauce of fresh tomatoes, onions, olive oil and basil.