FSN's Top Ten Ski Gifts for Christmas
Run out of ideas for Christmas presents?  Here are our Top 10 Ski Gifts for 2012.  The list includes some treats for all the family from the tiniest tots to the grouchiest teenager, without forgetting mum and dad too.

1) Wacky helmet covers from Helmet Heads to encourage your little ones to wear their helmets on the slopes.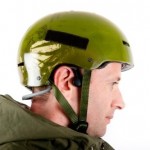 2) With Chilli Air bone conduction headphones (£36.92), there's no longer any worry about family members damaging their ears, not hearing you when you ask them to do something and not hearing passing skiers/vehicles.  see our report on these 'ski-safe' headphones here.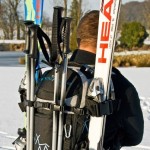 3) We've all been there… stuck with a five-year-old on the verge of a tantrum refusing to go another millimetre further.  Well, fret no longer.  With the Snowmule backpack you can tow your little ones along flat sections using retractable handles on leashes attached to the pack.  What's more, it can also hold two pairs of kids' skis and poles to make your life easier on the trek back to the chalet after an action-packed day on the slopes.  (It's also available as a bumbag, but without the carrying options.)
4) Bright, bold Zaini hats are all the rage this year.  It all began in 2010 when Miranda Harper couldn't find a beanie baggy or groovy enough during a season in Haute Nendaz and so she made her own to fit in zany-coloured stripes – hot pink, neon green, day-glow orange…  as well as pretty pastel shades for infants.  Soon everyone wanted one and so the brand was founded.  Now Zaini hats can be seen on the heads of …… as well as every self-respecting apres-skier!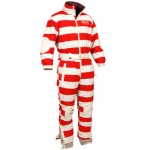 5) Bright is 'on-trend' this year on the slopes, as we reported in our feature Ski fashions for this season.  What better way to stand out from the crowd (or, perhaps more importantly, to track your kids on a crowded piste) than in one of these jazzy all-in-one-suits from Willy Finder.  They also stop the snow from getting between your various layers of clothing, making them excellent for little ones.  We especially like the pink and yellow 'Rhubarb and Custard' design and this striped 'Where's Willy' one too!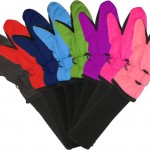 6) Perfect gloves for the kids – SnowStopper mittens (and gloves) from the USA are designed to stop the snow from getting between the jacket and the glove AND they don't fall off!  They feature the patented SnowStopper sleeve, waterproof liner, Thinsulate insulation and tuff-grip palm, and come in all sizes from 6 months (minus the thumbs) up to age 14, and there also ski/board gloves with the same features gloves from 4-16yrs.
7) These bold base layers from Sweaty Betty are so good you'll want to wear them on the outside!  What's more they're seamless, making them extra comfortable inside your skiboots.  The top is £49 and the leggings are also £49.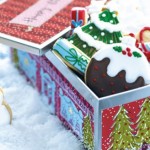 8) Here at FSN we just can't get enough of these beautiful hand-crafted Christmas cookies from Biscuiteers.   Each tin contains red-nosed reindeer, top-hatted snowmen, delicate snowflakes and figgy puddings. They also do tins of gorgeous apres ski biscuits.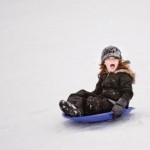 9) Circular UFO toboggans definitely add an extra dimension to any sledging escapades (available from larger ski outlets).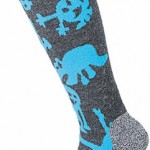 10) Ski socks don't come much funkier for boys than these 'alien' ones by Bart's (available from various outlets including Ellis Brigham, £9.99).