Flying high in Ischgl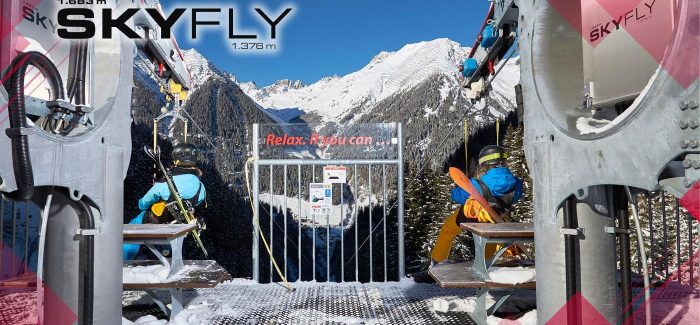 Our FamilySkiNews editor has been staying in the Austrian resort of Ischgl this week where, at the end of the ski day, she 'flew' back to resort in the swiftest mountain descent of her life, and discovers to her surprise that she has a head for heights.
This week, I found myself halfway up a mountain, atop a massive metal tower 50 metres above the ski slopes, and puffed out from my ascent in ski boots.  I was about to step off said tower and 'fly' to the bottom of the resort.  Somewhat nervously (I don't like heights at the best of times), I read a sign at the top: "Ischgl – relax if you can" – the resort logo.  They had to be having a laugh!
I was in the Tirolean resort of Ischgl, half-way up the Silvretta gondola, at an altitude of 1,683m, and about to experience the wonders of the €2-million installation, the two-kilometre-long Ischgl Sky-fly.  We'd been skiing all day and this seemed a pretty novel way to get back to resort at speed.
Before I knew it, I found myself strapped into a bucket-like seat – not dissimilar to a bosun's chair – with an extremely comprehensive set of belted and buckled harnesses: your skis/snowboards get fastened to your back; your rucksack to your thigh buckle.  I was then left dangling off a big pulley for what seemed a lifetime (it was actually just a few seconds) while a friend was strapped in alongside me.  The Ischgl Skyfly has two parallel zip-lines to whizz you side by side down the valley, back to the resort.  And then we were off… with me clinging on as tightly as I was able.
The descent is split into three sections.  I was relieved to find that the first part was the most gentle leg, despite my initial anxiety and the fact we were passing over the frosted treetops at an impressive pace. The second phase was the speediest section.  We were 'flying' at speeds of up to 84km per hour (approximately 52mph), with a couple of extra 'scream's thrown in, as we whooshed under the Kitzloch pedestrian-suspension bridge and through the Fimbabahn gondola route.  The total ride is two kilometres long with a 300 metre descent, landing you in resort on the roof terrace of the Pardatschgrat gondola.
The Sky-Fly is not just for daredevil skiers and shredders.  Non-skiing adrenalin junkies can also take part, simply by travelling up by gondola to the Silvretta intermediate station.  It runs summer and winter, and it's open for children too (over 8 and at least 1.2m in height).  It is, without doubt, the perfect end to a day on the slopes – whether you have tired ski-legs and wish to get back to base quickly; or to enjoy a bird's-eye view of the resort; or perhaps it's an exciting treat for the kids on the last day of your holiday, or every teenagers' dream descent…
And as for that sign so pertinently placed at the top "Ischgl – relax if you can"…  well, somewhat surprisingly by the third and final section of the ride, I did!  In fact, I was desperate to go back up and do it all again.   After all, who doesn't want to fly?…
Skyfly tickets are available online HERE, or at the intermediate station of the Silvretta gondola, at a cost of €41.50/€31.50 adults/kids (under 17) for the SkyFly plus the cable-car ride, or  €39/€25 with a ski pass. The ride is open daily (weather permitting) except Mondays from 10am-4pm; 11am-6pm in summer.
Crystal Ski Holidays offers a week's half board at the 4* Hotel Seiblishof in Ischgl from £1053pp (based on two sharing) including flights from Gatwick to Innsbruck and transfers this April (or from £1139 in January 2019). Direct flights are available from all major UK airports.  
Other related stories:
Hotel Seiblishof, Ischgl 
A smugglers' adventure in Ischgl 
Ischgl Gin – the first ever ski resort gin
Cross-country skiing in Galtür
Family-friendly Ischgl