The 2013 Skiers Bible is out
Where to Ski and Snowboard 2013 is now out and FamilySkiNews.com were at its launch in London last night, chatting to some of the movers and shakers in the British skiing world in eager anticipation of the forthcoming season. 
This year's issue is a whopping 696 pages long and, as always, it is jam packed with hands-on information on over 400 resorts around the world.  Rather too big to pack in your suitcase, it nonetheless makes ideal bedside reading while you select where to ski with your family. 
Impartial resort assessments
Inside the guide you will find clear, uncompromisingly honest and impartial summaries of the resorts, plus and minus points, star ratings for pretty much everything you could think of (convenience, lift speed, suitability for families, après-ski, scenery, etc etc), photos to convey the character of the resort and clear, well-annotated piste maps.  And, don't worry – if you find the choice bewildering, you can start with the book's 22 ready-made shortlists of resorts.    
Of all the ski guides, there's no doubt, Where to Ski and Snowboard has the most detail and the widest coverage.  It's also really reader-friendly.  Little wonder it's the industry's best seller. 
Detailed costings
This year they have further refined their Resort Price Index (first introduced 3 years ago) to include the cost of lift passes, ski hire and tuition as well as meals and drinks.  This is especially useful when choosing which resort to go to as you can how see at a glance how different resorts compare cost by cost. 
Through this price index, they have revealed that the priciest countries to ski are America, Canada and Switzerland.  The cheapest are Italy, Austria and to some extent France, although the cost of French bar and restaurant prices is still pretty high. 
"Why do the [restaurant] owners continue to try and rip-off holidaymakers in France?" exclaimed the book's co-editor Dave Watts at the launch.  "We and our readers find the practices of charging customers up to €2 to use the loo in some French mountain restaurants insulting – they sell you overpriced beer, then charge you to get rid of it."  
Here at FamilySkiNews.com, we couldn't agree more.   I recall skiing with my children in Val d'Isere last January, where spending a penny for the whole family on the slopes at La Folie Douce cost almost as much as their extortionate hot chocolate charges! 
Family tips
As well as chapters on cost cutting, short breaks, transportation and many more, there's a thorough chapter on Family Ski Holidays – based largely on questions readers have sent in during the past 12 months.  It also recommends the key family tour operators and who goes where, covering everyone from beginner families right through to coaching for kids' ski racing.
In the resort sections, co-editors Chris Gill and Dave Watts refreshingly tell it as it is… "This resort [Kitzbühel] is not an ideal choice for families" … "Courchevel is a good choice for families; there is lots of convenient lodging and gentle slopes" … "Past reports on the [Aspen] children's school and nursery have been full of praise"… etc.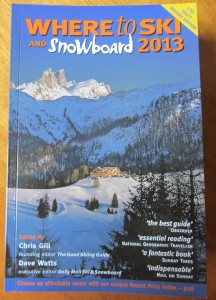 Best of all they also include detailed child-care options and recommendations, including telephone numbers, age limits and, where possible, costs.   This information is hugely helpful and reassuring for families, especially if you are venturing onto the slopes for the first time with your children in childcare.  A simple phonecall will usually allay any concerns, however trivial, you  may have.
All in all, it really is a 'bible' – not only for the ski industry but for anyone looking to ski next season with their family.  It is published by NortonWood Publishing and priced at £18.99.  You can buy it in all good bookshops and many equipment shops, or discounted online at the Where to Ski and Snowboard website.