Skiing starts in the southern hemisphere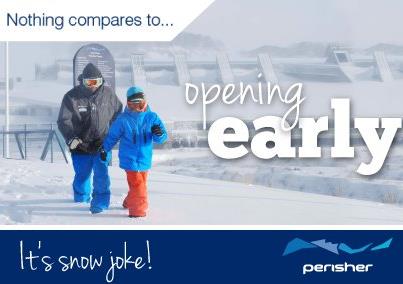 Now that the ski season is over in the northern hemisphere, attention is now shifting to the resorts on the other side of the globe, as they get ready for the start of their ski season.
This weekend, Australia's favourite winter playground – the resort of Perisher – opened a week early after a snowy start to winter.
Following the success of last year's pre-season opening, all the proceeds from the ticket sales from the 2nd and 3rd of June will be donated to the local community, with the aim of smashing the $20,000 raised for various charities in 2011.
In 2011 Perisher made the donations after its Facebook fans voted where they would like to see the money go.
"We are really excited for a great 2012 winter season and we can't wait to share all of the improvements we've made to the resort with our guests. We're also really happy to be supporting the local community by, once again, donating Saturday and Sunday's ticket proceeds" says Perisher's CEO Peter Brulisauer.
Indeed, unlike last year, it looks like a promising start in the three main skiing areas of the southern hemisphere – the Andes, New Zealand and south-eastern Australia, with snowfall in all the main areas.
Australia has had several dustings of snow (over 30cm in the past week) with snowfall overnight last night in most resorts, and temperatures have dropped sufficiently to operate the snow canons. Further resorts are scheduled to open later in the week, including Thredbo on 6 June.
It's been snowing in New Zealand too, with some resorts due to open imminently in the midst of their magnificent 'Lord of the Rings'-style alpine scenery.
Coronet Peak is scheduled to open on 9 June; the Remarkables on 16 June; Cardrona Alpine Resort on 22 June; then Treble Cone on 28 June.
There's long been fierce competition for ski business between Australia and New Zealand, with ski numbers dropping in both countries – possibly due to the poor snow and high exchange rate in Australia; and the Christchurch earthquake and poor early season snowfall in New Zealand. In New Zealand, around 35% of skier days are from Australians, looking to ski elsewhere due to a poor snow record at home.  Extra flights have been scheduled for this season to cater for the growing trend.