Russian Green Marathon
While everyone focuses on the imminent London Olympics starting in 63 days, preparations are already well underway for the next Games – the Winter Olympics and Paralympics in Sochi, Russia in 2014, which starts in just 624 days.
Thousands of Russians have taken part in a 'Green Marathon', which saw them complete a 200-kilometre Olympic run and plant trees across the country.
The marathon took place in 42 cities across Russia, including Moscow, St Petersburg and Sochi.
Sochi 2014 volunteers were among those who participated in the run, and planted nearly 2,000 trees as part of the Sochi 2014 Environmental Strategy.
The aim of this strategy is to preserve the unique natural surroundings of Sochi, including the protected areas of the Sochi National Park and the Caucasian Nature Biosphere Reserve. These trees will absorb more than 1,200 tons of carbon dioxide per year.
The Green Marathon is also part of the "Billion Tree Campaign", a global United Nations campaign aimed at making the planet greener. It was established under the UN Environment Program (UNEP). Twelve billion trees have already been planted worldwide since its launch in 2007.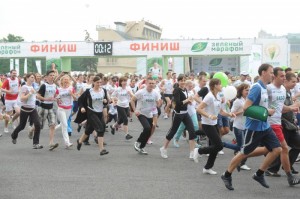 Nick Nattal, spokesman for the United Nations Environment Programme (UNEP), explained: "The "Green Marathon" campaign is a great opportunity for everyone to take part in the marathon and get involved in the global environmental 'Billion Trees' Campaign."
"We hope to see more "green" campaigns, and as a result, thousands more trees planted before Sochi 2014. "These events once again highlight the strong link between sport and the environment."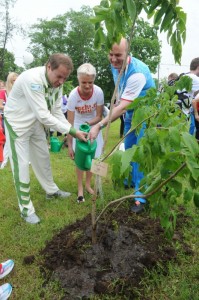 The Olympic Organising Committee has been working hard to ensure the Sochi Games are environmentally friendly and sustainable. 
Dmitry Cheryshenko, President of the Sochi 2014 Organizing Committee, commented: "The "Green Marathon" is a great sports festival for the entire nation… promoting a healthy lifestyle and encouraging all of us to look after the environment."
"Planting trees helps to create the "green heritage" of the Games even today, and reaffirms our commitment to stage the Games in harmony with Nature."
Here at FamilySkiNews.com, we are closely following all the preparations for the Winter Olympics.  You can read more about it all in one of our previous reports here, and find out about the special mascots for the Games here.