New smartcard technology at NZ ski resorts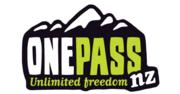 Planning a family ski holiday in New Zealand?  Look out for the OnePassNZ.  It's brand new this season, and so much more than just a mountain pass…  
For starters, it provides unlimited freedom to ski and ride at eight of South Island's most popular mountain resorts, with the highest, most extensive ski areas and some of the friendliest family facilities.  In other words, it is a cash-free card that gives access to 2,230 hectares of lift-served terrain at the following resorts:
Cardrona Alpine Resort (Wanaka/Queenstown)
Treble Cone Ski Area (Wanaka/Queenstown)
Snow Park NZ (Wanaka/Queenstown)
Ohau (MacKenzie)
Mt Dobson (MacKenzie)
Roundhill (MacKenzie)
Porters Ski Area (Canterbury)
But it isn't just a mountain pass.  You can use it to rent your equipment, for ski lessons, for drinks and meals in resort…. It's totally flexible and the options are endless. 
Simply select your choice of ski package online at www.onepassnz.com.  On arrival in New Zealand you can collect your pass at one of the following points:
Christchurch: Christchurch International Airport 
Queenstown: Cardrona Alpine Resort office (35 Shotover Street) 
Wanaka: Cardrona Alpine Resort town office (18 Dunmore Street) or Treble Cone town office (24 Dungarvon Street)
On Mountain: Cardrona Alpine Resort or Treble Cone
Once you have your pass, you just have to login, check your balance and top it up at www.onepassnz.com.  It's a great solution, as it saves you carrying large amounts of cash around with you.
What's more, you can exchange a lift pass for "snow $s" to access all the off-snow fun too.  The OnePassNZ also offers access to some of the South Island's biggest adventure attractions (jet-boating, horse trekking, spas, vineyards, sky diving…) – perfect if you fancy treating the family to a day out from the slopes. 
This also makes it especially appealing for non-skiing family members or for those with young children.  Here are just some local attractions to enjoy with your kids, all within easy reach of the ski resorts and all accessible with the new OnePassNZ:
Glacier Lake Kayaking (Mt Cook National Park): navigate your way around icebergs on the famous Tasman Glacier Lake – New Zealand's only glacier kayaking experience.
White-water rafting (Queenstown):  on the Shotover or Kawarau River (wetsuits provided), suitable for kids over 13 yrs and over 40kg in weight.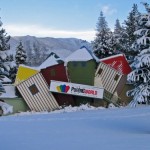 Puzzling World (Wanaka): This wacky attraction is fun for all ages with its mind-bending clever tricks, special effects, illusions and even a 3-D maze, to leave you puzzled and amazed.  
National Transport & Toy Museum (Wanaka): a must for kids of all ages with its large, rare vehicle collection and nostalgic array of vintage teddy bears, dolls and toys. 
Quad-biking or 4WD safari(Queenstown): for the ultimate off-road adventure through Lord of the Rings scenery and film locations.
We think the new OnePassNZ looks a terrific idea, as it appears so versatile and simple to use.  We'd be interested to hear if it's as good as it sounds.  Do check it out and let us know your views on our Facebook page at FamilySkiNews.com.