Devotee of Paralympic skiing carries Olympic torch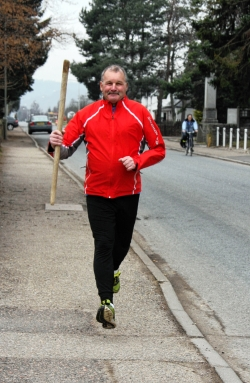 Today the Olympic Torch will be carried through Inverness by a staunch devotee of Paralympic skiing, 60-year-old Robbie Young. He is one of several British snow sports athletes in the 70-day relay, together with Chemmy Alcott, Ed Drake and Talan Skeels-Piggins.
FamilySkiNews.com reported on the Paralympic skier Talan Skeels-Piggins last month, when he carried the flame through Bath.  Robbie Young is also involved with disability snow sports.
Indeed, Robbie was nominated due to his lengthy voluntary commitment to adaptive skiing.  He is the Vice-Chairman of Disability Snowsport UK and, within that, he helps with the running of the British Disabled Ski Team. He is also on the board of BASI – the British Association of Snowsport Instructors.
Robbie is no stranger to Olympic Games. He was also involved in the Turin and Vancouver Winter Olympic Games – in Turin in 2006 as the national Paralympic ski team manager; and in Vancouver in 2010 as the team technician, helping to prepare skis and other equipment for the British competitors.
For his full-time job, Robbie works as a sales manager for the well-known ski and outdoor equipment manufacturer, Salomon.
He was nominated by Andrew Lockerbie, former chairman of BASI, whose statement read: "Robbie has worked relentlessly for those with disabilities for over 15 years. Robbie brought together a number of charities under one umbrella of Disability Snowsport UK (DSUK). He put together and has managed the progress of the ParaOlympic ski team. Robbie has a full time job in sales and puts much of his earnings and free time in helping those with disabilities enjoy the freedom and success snowsports had brought them. He works quietly behind the scenes and now its time for Robbie's moment to shine." 
Ever since he heard he was going to carry the torch through the Highland capital, Robbie has been following a rigid running training schedule, with a pickaxe handle doubling as the famous torch.
He was reported in a local newspaper to have said: "I'm really looking forward to the big day but not necessarily the training. They have not said how far I will have to run, but I guess it will be around two miles.  I am out running every day – doing two miles a day just in case."