Michael Phelps looks forward to skiing next season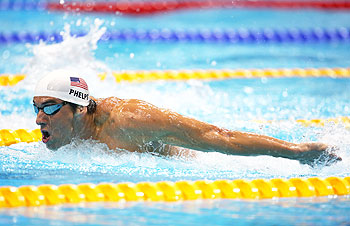 Swimmer Michael Phelps has revealed that he wants to try snowboarding and skiing this winter as he has never been able to do so to date, for fear of getting hurt.    
The American multiple-Olympic-gold-medallist is already looking forward to his R&R after the Olympics.  This is to be the last Games for the 27-year-old, who has always maintained he wouldn't compete beyond the age of 30. 
Last week he told US Weekly:  "This winter I want to try and snowboard and ski…I've never done that because I couldn't get hurt." I knew if I got hurt it wouldn't be good."
"Now I'm excited to relax! Not have to answer to anyone. Not have someone tell me where to go, when to go, what to do…"  
In the meantime, the 6'4" swimmer from Baltimore, Maryland, is focusing on his third and final Summer Olympics, attempting to defend his various titles, and with teammate Ryan Lochte right on his tail.
Phelps' Beijing performance is a tough act to follow.  He left the last Games with the biggest medal haul in Olympic history.  Now in London, Lochte has already clinched gold for the men's 400m individual medley race, with Phelps in fourth place, and Lochte is hungry for a second gold in the 200m free at 2.43pm this afternoon.      
Phelps remains philosophical: "Once I hang my suit up I want to be able to look back and say I've done everything I can in my career – whether that's having fifty gold medals or having sixteen total medals. If I can say I've done everything I've wanted, I think that's really all that matters."