EasyJet introduces allocated seating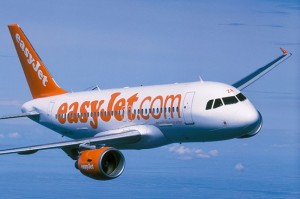 EasyJet introduced allocated seating to its flights today, as the winter services to the Alps get underway for skiers and snowboarders.  
This new system is being implemented not only to the skiing destinations, but across the entire easyJet network.  
As with so many no-frills airlines these days, you have to pay for each little luxury, and seat location is no exception!  If you aren't bothered where you sit, you will be allocated a seat for free.  Thereafter there are three price bands:
£3 for selecting a specific seat
£8 for seats near the front (rows 2-5 on A319s or 2-6 on A320s) or in emergency exits
£12 for extra leg room
The airline trialled allocated seating earlier in the year, with around 2 million passengers flying on 12,500 flights during April – one of the airline's busy months.  Research carried out at the time indicated that allocated seating was the way ahead:  71% of passengers who tried out the flights in April thought allocated seating was a better system.  Of those, 60% said they would be more likely to fly with easyJet in the future if it was introduced. 
The new system has been introduced now – in the winter – as fewer people travel, in the hope that the transition will be as smooth and trouble-free as possible. 
Paul Simmons,UK director of easyJet commented: "Today's move offering allocated seating on all of our flights is the single, biggest change the airline has undertaken in its history.  We are confident this move will not only make our current passengers happier when flying with easyJet but will also encourage new customers to choose to fly with us."
On a more sceptical note, it seems to us just yet another way these 'low-cost' airlines find to squeeze more money out of its passengers. 
Last month, easyJet scooped the award for 'best low-cost airline' in the Condé Nast Traveller Readers' Travel Awards.  It was given the thumbs-up for its wide range of routes and, ironically, its value for money! 
If you're travelling easyJet this winter, visit our Facebook page and let us know what you think of the new system?