Slopestyle debuts as an Olympic sport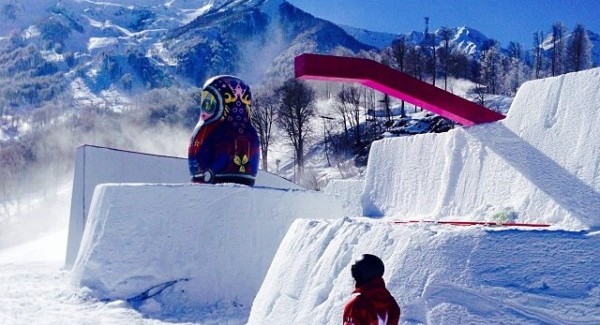 Even though the opening ceremony is not until tomorrow, some events have begun in Sochi today (as we reported in an earlier story HERE).  These events include the ice-skating and the first ever Olympic Slopestyle events.
Indeed, it was Slopestyle that opened Sochi 2014 – despite the last couple of days' controversy over the safety of the course following several injuries.
s gold medal, Norwegian Torstein Horgmo had to retire after breaking his collarbone on the slopestyle course during training.  Another Norwegian, 18-year-old Tiril Sjåstad Christiansen was also forced to retire from her first Olympics, also due to a training injury.  Then, US snowboarding legend and double Olympic champion Shaun White withdrew as he found the jumps unusually perilous, deciding not to take any chances and concentrate his efforts on the halfpipe discipline later in the week.
Shaun remarked at the time: "'It's a difficult decision as I know how much effort everyone has put into holding the slopestyle event for the first time in Olympic history, a history I had planned on being part of."
Despite concerns, the event started today with the qualifying rounds.
In Ladies' Slopestyle, 18-year-old British snowboarder Aimee Fuller, from Bangor in Northern Ireland, started her first Olympics today.  Her family were there to cheer her on.
In two qualifying runs, she achieved a best score of 44.50 in the first run and finished 10th out of 12 in her heat. Unfortunately, this means Aimee's just missed out on automatic qualification for the final of the Slopestyle discipline, but she has another chance to progress from the semi-finals which take place before the final on Sunday.
You can see the BBC footage of Aimee's first two runs by clicking HERE.
Fellow slopestyler  and three-times X-Games gold medallist, Jenny Jones, also failed to qualify for the finals, but nonetheless scored an excellent best time of 74.25.  That puts her 10th overall – sadly only the first eight qualify automatically for Sunday's final.
On the Men's Slopestyle, old Jamie Nicholls pulled out all the stops to qualify automatically for the Finals, with a sensational result of 86.75 in his final run, putting him in fourth place overall in the qualifiers.
Jamie tweeted afterwards: "Dream came true! Can't believe I made finals at the #olympics !!"
Fellow boarder, 24-year-old former circus acrobat, Billy Morgan, one of our big medal hopefuls, was hot on his heels, finishing in 6th place, but sadly failed to qualify for the finals, with his best result of 85.50.
It's an astonishing result, given Morgan was a late starter to the sport, not skiing on snow until he was 17.  He began his training on the local dry ski slope at in his home town of Southampton aged 14.  As he commented to the Southampton Daily Echo:  "Most of the people I ride against have been doing it on snow since they were five or six. I did two years of messing around on dry slopes, but it was only when I went away for my first winter season at age 17 that my snowboarding took off."
With everyone through the qualifiers, it's a brilliant start for Team GB, especially Jamie … and the Olympics haven't even officially started yet!