Fifteen-year-old Paralympic skier carries the flag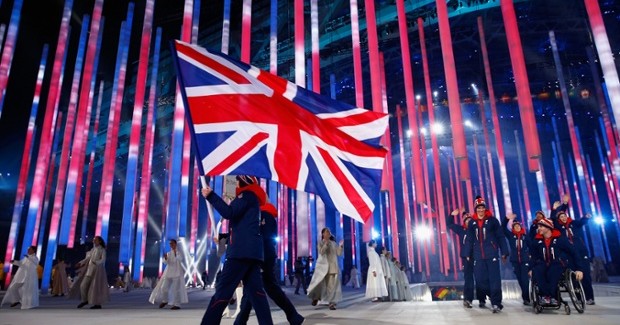 Britain's youngest ever Winter Paralympian, Millie Knight – a 15-year old partially-sighted alpine skier – carried the flag at this afternoon's Opening Ceremony of the Winter Paralympic Games in Sochi. 
Millie lost much of her sight having ingested a parasite called Toxocara, which is spread by animal faeces and can contaminate the soil in gardens, parks and playgrounds.  It lay dormant for several years before travelling from her stomach to her eyeball where it almost blinded her left eye within a period of just three weeks.
Like all the alpine skiing athletes in the ParalympicsGB team, Millie has spent the last few years racing and training as a member of the British Disabled Ski Team.  In all, 9 BDST athletes have been selected to represent their country at the Paralympics.
Kelly Gallagher (Visually Impaired skier)
Charlotte Evans (VI guide)
Jade Etherington (Visually Impaired skier)
Caroline Powell (VI Guide)
Millie Knight (Visually Impaired skier)
Rachael Ferrier (VI Guide)
Anna Turney (Sit skier)
Mick Brennan (Sit skier)
Ben Sneesby (Sit skier)
James Whitley (Standing skier)
Following the amazing success of the London 2012 Paralympics, the Sochi Games will be covered by the media like no other Winter Paralympics before them.  In the UK, Channel 4 will be broadcasting 50 hours of live coverage of all the events with hundreds more available on-line.  Channel 4 also have a dedicated website where you can follow all the action – http://paralympics.channel4.com/index.html
You can also get more information on the whole ParalympicsGB Team at http://sochi.paralympics.org.uk/ as well as on Twitter @ParalympicsGB (hashtag #GoParalympicsGB) and Facebook https://www.facebook.com/ParalympicsGB
There is alpine skiing action daily at the Games, except on 12 March.  The first skiing action starts straight away with the Downhill tomorrow (Saturday) morning at 6am.  Don't forget to set your alarm clocks!