Jade Etherington wins downhill silver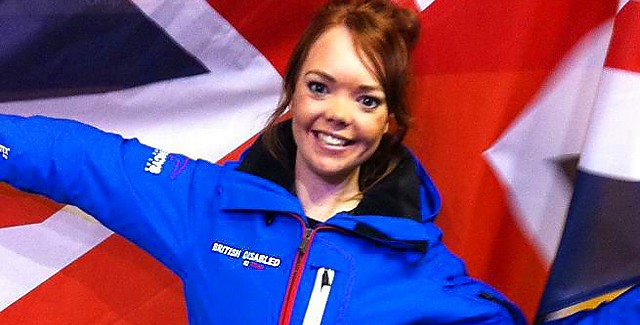 Early this morning, 22-year-old Jade Etherington won Britain's first ever women's Winter Paralympic medal on snow. 
What an amazing start for Team ParalympicsGB on the first day of action at the Winter Paralympics in Sochi! 
She won the silver medal in the women's visually impaired downhill in the mountains at Rosa Khutor, with her guide Caroline Powell, clocking a speed of 34.28 seconds, 2.73 seconds behind Slovakia's Henrieta Farkasova and her guide Natalia Subrtova.
Another ParalympicsGB team member, Kelly Gallagher came sixth.
It's a terrific early birthday present for Jade, who turns 23 tomorrow!  But it was not without its drama!…
At the end of the race, after crossing the line, she crashed into the barriers and there were a tense few seconds until she got back onto her feet again.
"I am delighted with the silver medal, I don't think it's sunk in yet"
"We knew going down that it was a solid run, despite my little jump and crash at the end, but I think I was just pleased to get down and it is great to have that confidence boost for the rest of the competition."
Jade's medal is Britain's first Winter Paralympic medal since the wheelchair curlers won silver at the Turin Games in  2006; and the first skiing medal since 1994, when five bronze medals were won, all by men – four in alpine skiing (James Barker, Richard Burt x2 and Matthew Stockford ) and one in cross country (Peter Young).