Lindsey Vonn 'retires' from Olympics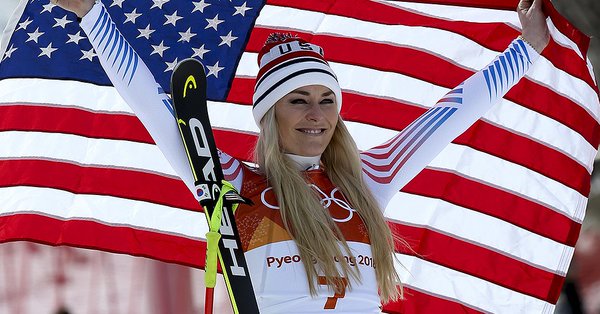 Lindsey Vonn, aged 33, became the oldest woman to win an Olympic alpine medal when she took bronze in the downhill in Pyeongchang last month.  It was her Olympic swansong – she won't be competing in Beijing in four years.
Lindsey Vonn entered the 2018 Winter Olympic Games in PyeongChang as the favourite for the downhill and possibly in the running for a further medal in the Super-G.
Yet, despite four World Cup titles to her name, her Olympic medal tally has never been as impressive, due to a series of injuries and misfortunes.  Prior to PyeongChang, she had two Olympic medals – a gold and a bronze.  Vonn was unable to repeat her downhill victory in the 2010 Olympics in a title defence eight years in the waiting.
Sofia Goggia clinched the gold medal in the Ladies' Downhill.  Sofia stole the show, making history as the first ever Italian female Olympic downhill champion.  Silver was a surprise win by Norwegian Ragnhild Mowinckel.  Lindsey took bronze – the third medal of her Olympic career.
In an emotional speech, the American devoted her bronze medal to her grandfather, who passed away in November 2017.  At the finish of her run, she had blown a kiss skyward for him.  Afterwards, in an emotional speech, Vonn said: "I worked my butt off … I'm really proud of my medal and I know he is too". 
"It's sad, it's my last [Olympic] downhill. I wish I could keep going, I'm having so much fun and I love what I do, but my body just can't take another four years. But I'm proud to be competing for my country, giving it all and proud to come away with a medal."
To mark her Olympic 'retirement', Vonn visited the Ellen DeGeneres show this week, and Ellen gifted her a Zimmer frame on skis filled with reading glasses, tissues, oats and IcyHot, an extra-strength muscle pain relieving balm.
But it's not the last of Lindsey on the ski circuit. Lindsey says her final career goal now is to surpass Swedish legend Ingemar Stenmark's record of 86 career World Cup victories.
You can see the full interview with Ellen DeGeneres below.  It also features footage of her dog, Lucy the King Charles Spaniel, who likes to chase Lindsey on the slopes: