Kelly Galagher wins Britain's first ever Paralympic Winter gold medal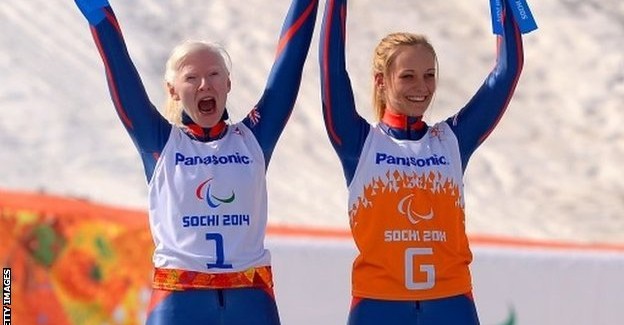 Visually impaired skier Kelly Gallagher has today become Britain's first ever Winter Paralympics gold medallist.
She won the women's Super-G at the Rosa Khutor slopes in Sochi this morning, accompanied by her guide Charlotte Evans.
They were the first pair out of the gates, clocking an impressive time of 1:28:72, which was never matched by the subsequent pairs.
Kelly, 28, has oculocutaneous albinism, a condition which affects the pigment in her hair, skin and eyes.  She was ecstatic after the race:  "It's nuts… it's hard to believe…." She exclaimed.
And Kelly's guide Charlotte Evans has just tweeted: "OH MY WE JUST GOT GOLD!! Thanks for everyones support. Watch the ceremony at 2pm (GMT) we get to hear our national anthem."
Kelly had come a disappointing sixth in the visually-impaired Alpine Downhill on day one of The Games.  After that event, she sportingly said: "Every day we go out to win and we certainly didn't today but that's the way ski-racing goes sometimes.  We still have four more races to come back stronger…. I'm so excited for Jade – winning a silver medal at the Paralympics is so great for our sport."
Today she commented: "We had such a bad day in the downhill, It took a lot for us to come back. We were bawling our eyes out.  It means a lot to us.
"We put in so much work and this, I suppose, is the fruits of our labour."
Team mate Jade Etherington managed an impressive recovery from a collision with a gate in the lower half of her run, and a strong finish to clinch third place, adding a bronze medal to the downhill silver she won on Day One (which we reported in an earlier story HERE).
Kelly's historic gold plus Jade's two medals gives Team Paralympics GB a fantastic three medals within just three days.  They have already beaten their minimum target of two, and could well be heading for another medal in the Curling as Team GB play Slovakia later this morning.
"We all had dreams of Sochi being our games of opportunity. We were focusing on at least two [medals] and now that we have three, people are going to be a lot more relaxed," said the performance director of the British Paralympic Association, Penny Briscoe, to Channel 4 after the race.
She added: "It's a momentous moment for Kelly and for Paralympics GB and winter sport in Great Britain."