Ski Jumping competition cancelled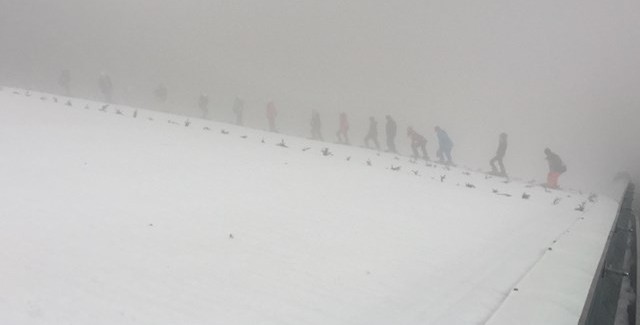 Sunday's World Cup individual ski jumping competition in Oslo had to be cancelled at the weekend, due to bad weather.  Just one and a half hours into the competition on the Holmenkollen, with only two jumps on the scoreboard, the jury decided to abandon the competition due to dense fog and strong winds. 
The last time we featured Oslo's famous ski jump, the Holmenkollen, was last summer when it became the latest in a series of unusual accommodations offered in a competition by AirB&B  – the chance to overnight in a luxury apartment at the top of the jump!
This weekend it was supposed to be used for its original purpose as one of the great ski jumps of the world.
As Britain is hit by Storm Imogen, yet another tropical storm to batter the country, hot on the heels of Henry and , and as we reflect on the peculiar weather conditions in recent weeks in the Alps, and the gale force winds in Norway, we can't help wondering whether this unusual weather isn't a direct affect of El l Niño this winter, as we reported in an earlier story HERE.
All fingers are now crossed that the ski jumping World Cup competition will continue as scheduled, on Tuesday and Wednesday, in the Norwegian city of Trondheim.
Top photo courtesy of the FIS