Will royal Klosters really cost a fortune?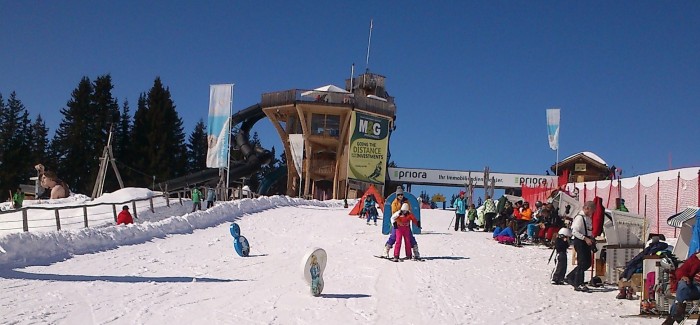 Known for their links with the royal family and celebrities, the ski resorts of Davos and Klosters are often considered beyond the reach of many British families budgets. Our reporter Briony Key has been to check out whether it's really true… 
Two-year-old Mia grins from ear-to-ear as the gondola sweeps her and her family up the mountain to Madrisa Land Klosters, a place of magic carpets, kids ski lifts, a carousel and bouncy castle.
Turn left out of the gondola and you're steps from a world of icy kiddy adventures, from tubing down the slopes to ski lessons, obstacle courses and the serious 'work' of building igloos.
I was also in Klosters to see Madrisa.  Located on the Sonnenberg Mountain, it is billed as Switzerland's largest adventure park, a veritable 'paradise for up to 12s'.
I found parents chatting happily here, confident that this enclosed area was a safe place for their children to learn as they played – and you could hear their laughter from the other side of the slopes!
Venturing on to the sunny slopes in my skis, I was pleased to find there were not too many people, but a good range of wide slopes, which helped me get to grips with greater gradients, and boosted my own confidence enough to venture down a wide, black run.
Madrisa never seems very busy, which means younger children won't get frightened by crowds of skiers speeding past them, and there are 6kms of easy blue slopes on which to test their first snow steps and snow-plough turns, as well as professionally-staffed daycare facilities.
The 320-kilometre total ski area includes 23% blue, 42% red and 35% black runs.
Off the slopes there are ice rinks, swimming pools, childcare and family-friendly accommodation – and a 8.5km toboggan run which I'd definitely like to do!
But how much will all this dent your pocket? Well, Madrisa Land is free for children up to six, so that's an incentive, but what about the rest?  Will the resort of Klosters, with all its glitz and glamour and royal connections, really blow your budget?…  It seems not!
Swiss Air flights from the UK to Zurich start from £121 return and getting to the resort on the striking red Swiss trains starts at £96 (second class).
Adults buying a Swiss pass train card can also ask for a family card (which is free of charge). This entitles children under age 16 to travel free when accompanied by at least one parent holding a Swiss Travel System ticket.
Costs for a family room, per night, start from £ 272 per family room (two adults + two children under 12 years), including buffet breakfast.
A holiday package in a three-star hotel (four days three nights), including flights with SWISS, a family room, and return transfers to resort are around £535 per adult, £335 per child.
You can grab a pizza for around £10, and soft drinks are around £2.50.
The resort has been awarded the quality seal 'families welcome' by the Swiss Tourism Association – which spotlights resorts that offer facilities and accommodation that meet the needs of families.
For more on Swiss holiday options see www.MySwitzerland.com\\
For more on holiday travel prices see http://www.stc.co.uk/\
Images: courtesy of swiss-image.ch/Christof Sonderegger