Our annual ski holiday in Adelboden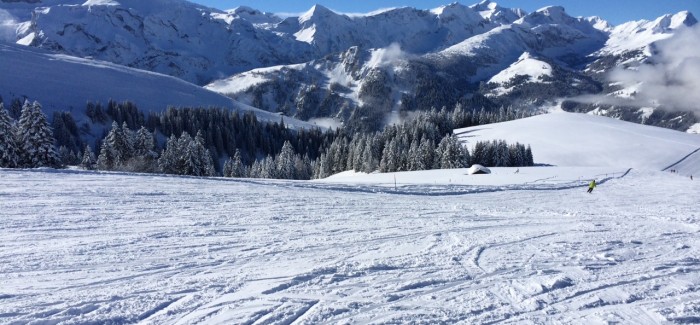 Here's the latest in our series of resort reports – written by kids for kids.  This one's on Adelboden in Switzerland.  Edward Cochrane (aged 12) appraises the resort's sporting pursuits while his sister Katherine (aged 13) turns her attention more towards the après ski – including "one of the world's best tea rooms"!
Edward writes: "I have been to Adelboden 10 times ( both in the winter and the summer), and it is very pretty and a really lovely place for a wonderful family holiday.  In the winter it has a lot of really good ski-runs, which range from really easy 'snow garden' slopes to a piste on which part of the World Cup ski championships is held every year.
My favourite ski run is quite steep with lots of off piste sections through the trees. (The area has a lot of trees, so there are many different off piste routes you can take.)
One really good thing about Adelboden is that not very many tourists go there and so there are barely any queues for the Ski lifts.  However, there is a small gondola which connects the village centre with the main ski lift system – and first thing in the morning there can be quite a queue for this; although, if you have a guide (or are in the ski school) there is a separate entrance which bypasses this wait.
Adelboden is also a very popular place to go paragliding, and my father and I would love to try that one day.
All in all, a great place to spend a holiday!
Katherine continues: "As well as being an amazing place to ski or snowboard Adelboden is home to one of the world's best tea rooms (in my opinion). The tearoom In question is called the Schmidt tearoom and is run by two ladies, one who has been working there for 50 years; they make all the cakes and also sell some local specialties. There are also lots of amazing restaurants which mostly use locally sourced produce, I would especially recommend Alte Taverne for its amazing grilled meats and puddings.
There are a fair range of shops in Adelboden including clothes shops, a bakery, a cheese shop, a supermarket and a post office to name a few. As well as having some good shops there is also an ice rink and a swimming pool. For the adults there's also the option of a relaxing day at a spa in one of the hotels, or a pint of something in the very good Weltcup bar.
If your child would like to write a resort review for us, please send a short piece (maximum 300 words) plus one or two JPEG images to our content editor, teresa.fisher@familyskinews.com