Cheese fondue fight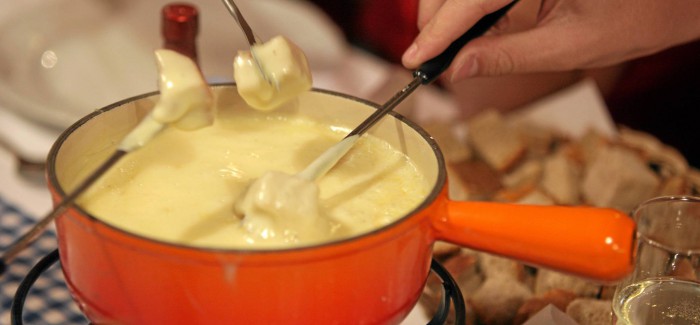 A Swiss fondue restaurant has won a three-year legal battle over the smell of its cheese.
The restaurant, Zunfthaus zur Zimmerleuten, in Zurich was facing charged after the two boutique clothes shops either side of his restaurant ganged up on him, complaining that the smell of his melted Swiss cheese dishes was driving their customers away, spoiling their products and wrecking their businesses.Restaurant manager, Florian Kurz, 35, refused to pay a police fine of CHF448 imposed on him in 2012, after a lengthy battle with the retailers, who were repeatedly complaining about the stench, even though the historic restaurant had served open-air fondues on its terrace for several years previously.
However, his lawyer, Lorenz Erni, reported to the court in Zurich that the boutique owners had used "underhand tactics", bringing "speciality smelly fish" into his restaurant, which they'd allegedly shipped especially from Norway.
"They also talked badly to the customers and told them that our fondue is not as good as that in other Swiss fondue restaurants," Kurz told The Guardian newspaper.
The restaurant has already had more than its fair share of bad luck.  In November 2007 it suffered major damage following a fire, in which a fire figher lost his life.
This time, the Zunfthaus had more luck: the court has ruled that the smell was not enough to uphold the complaints.  They have ordered that the fine should be waived and Kurz has been awarded £4100 in costs and damages.
According to Lorenz Erni, it was a victory for cheese fondue! "The judge decided that it was normal, and that they have the permission to serve what they want," he remarked.
Kurz simply commented: "It's definitely a good win for the Swiss cheese."