Life in the LASR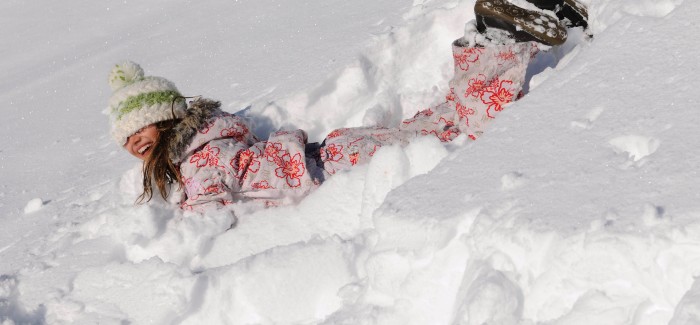 Sometimes all you want is snow fun… but sometimes it can be no fun getting away with a very young family.  Our regular reporter Briony Key is just back from the Lake Annecy Ski Resorts (the LASR), a group of French resorts which take the strain out of your family ski holiday!
Finding somewhere that's just over an hour's flight from London, around the same time to transfer, and welcoming to families all sounded a bit too good to be true, so I headed to the ski resorts of the LASR keen to see if they lived up to their promise.
Just a stone's throw from Geneva, the Lake Annecy Ski Resorts comprise the resorts of la Clusaz, Le Grand Bernand, Manigod and St-Jean de Sixt, and I soon discovered that Manigod is a big magnet for British families with young children, many of whom own chalets there.
I watched as two proud parents took their son for his first nervous turns down the slopes and could see why they were enjoying it.
The slopes are wide, not too busy and the ski area gets plenty of sun, meaning those who have to stand around a bit while junior finds his feet don't also get frostbite!
It's a pretty place, with plenty of slopes for beginners, and improvers, and those who simply want to be pulled along on a sledge.
My friend was just finding her ski legs too and enjoyed being able to ski at her own pace without too many folks skiing down behind her.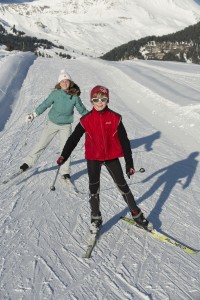 There are 14 blues runs, eight reds, one black in Manigod, and the blue runs saw her confidence grow quickly.
Conveniently, our ski pass also allowed us to tour between the resorts, which include the 130kms of runs at la Clusaz.
We skied together from Manigod's snowy peak along a wide cruisy run back into La Clusaz, taking in the lovely views and the varied route, from mountain high down through tree-lined valleys to the town.
You can also combine a ski break with a family break, and buy a ski pass for individual days, taking time out to try the spa baths and swimming, shopping and restaurants.
Another fun thing about skiing here is seeing all the other snow sport options that people are out enjoying.
Snow shoe outings, cross-country skiing and hiking are available, and the accommodation is situated right next to the slopes, making it less tiring for little ones to get up into the mountains.
We decided to opt for the more unusual!  The horse drawn sleigh ride looked like a nice mini adventure, but we went for adventure max, and had a go at ski-jöring in La Clusaz.
For those who don't know, it looks a bit like water skiing, but rather than holding on to a bar at the back of a boat you hold on to a harness at the back of a horse.
Our 'what have we done now' faces said it all as the horse trotted forward with us hanging on the back and hoping that we could keep this up as he decided on a canter.
It's hard on the arms and easy to loose track of where your skis are facing in the powder, but wow, what an experience.
I wouldn't recommend this for the very young, or for anyone who isn't an intermediate skier, but for those who want to try something different and very traditional it's a real treat.
We also did something I would never usually consider on a ski break – we visited a local farm.
The area is famed for its Reblochon cheese, and farms in all four resorts like to show you how it got its reputation. Bundling into the car with the other guests we soon found ourselves in a warm barn with the hay-munching cattle, learning how this tasty product's produced.  The kids thoroughly enjoyed their afternoon down on the farm.
All in all, there are lots of different family activities here in the LASR, both on and off the slopes.
LASR also boasts the highly-coveted Famille Plus label, given to the most family-friendly French resorts (as FamilySkiNews.com featured in a previous story HERE), which shows its commitment to the welcome and quality of services for all.
I think it's earned it.
See www.lakeannecyskiresorts.com for further information.