Wengen puts families at its heart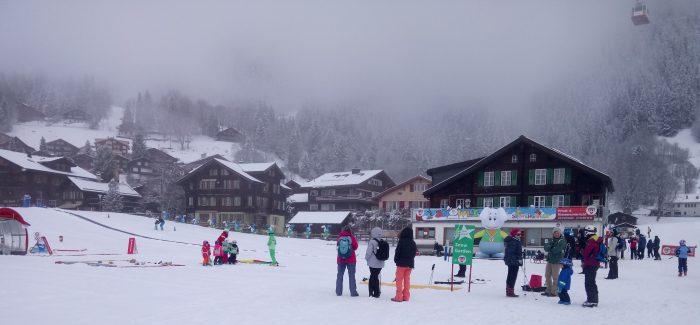 Our roving reporter, Briony Key recently visited Wengen to see if there's more to this famous Swiss resort than it's celebrated Lauberhorn and Inferno ski races.  just how family-friendly a resort is Wengen? 
Step off the cog-wheel train into Wengen and you feel time slow down – until you get to the centre of the village, at least, where it's all systems go!
The children's Kinderland is right in the centre, and families have free use of the facilities, or can book the specially trained children's ski instructors.
There are four magic carpets and three easy draglifts, taking children (from three years) gently to a safe starting point for the practice slopes.
Children can take try-out lessons to see if they like snow sports, before committing to the weekly programme. Those who do stay get to compete in an end of week ski race, with each child gaining an achievement medal.
While the children are happily engaged, parents can make the most of the skiing (there's 100 kms of groomed pistes in and around Wengen, and 175kms of pistes in the Jungfrau region), or head to the Figeller Schneebar restaurant, which looks over the children's snow playground.
For those who wish to venture a little further, there's a cableway from Wengen up to Männlichen; the start of a few hiking routes and ski runs, and you can also take a gondola from there to Grindelwald.
Or for those who like to plan their trip around a special event, Wengen hosts the Lauberhorn Downhill Ski Race – one of the World Cup circuit's most spectacular competitions – every January (in 2019 on 18-20 January).  And a few days later (on January 23-26, 2019), it's the Inferno Race – the world's biggest amateur ski race. The atmosphere is electric but the resort is packed.  The slopes can be quite quiet though as everyone's watching the racing.
Other more general winter activities in Wengen include a natural, and artificial ice rinks, a curling hall, winter walks, tobogganing, billiards and bowling, or you can set your sights high and try hang-gliding from Männlichen and Kleine Scheidegg.
Wengen lies at the foot of the bit three – the Eiger – Mönch – Jungfrau mountains in the heart of the Bernese Oberland.  Skiers, and non-skiers alike love this sunny setting for its relaxed atmosphere, and pure mountain air …
and the chance to reach the very top!
The Jungfraubahn railway climbs on up from here to the Jungfrau summit, where you can view the Aletsch Glacier from the Sphinx observation deck, and take a walk out on to the glacier plateau. This 'Top of Europe' Tour combines a UNESCO World Heritage Site with a Disney-style ice palace, with lots of family entertainment.
It's a very quirky combo', complete with souvenir shops, Lindt Chocolate sales and a range of restaurants, but it somehow works, especially if – like me – you experience a 'white out' when you get there.
I stayed at the three-star, family-friendly superior Hotel Schönegg, one of the village's oldest properties. It opened in 1903, but was fully renovated in 2012, bringing back the magic of its belle époque design. It's a comfortable, welcoming place, with fine dining, but no fuss. Families will feel at ease and relaxed here. The hotel's 2018/19 winter season runs from December 12 to March 3, with a range of in-house entertainment, from yodelling lessons to ese and wine tasting.
Briony travelled courtesy of Switzerland Tourism, the Swiss Travel System, Hotel Schönegg and Swiss International airlines. 
 Switzerland Tourism 
See www.MySwitzerland.com, call our Switzerland Travel Centre on International freephone 00800 100 200 30, or email info.uk@myswitzerland.com; for packages, trains and air tickets sales@stc.co.uk. 
Swiss Travel System 
The Swiss Travel System provides a dedicated range of travel passes and tickets exclusively for visitors. The Swiss Travel Pass offers unlimited travel on consecutive days throughout the rail, bus and boat Swiss Travel System network. This pass also covers scenic routes and local trams and buses in around 90 towns and cities, and also includes the Swiss Museum Pass, allowing you free entrance to 500 museums and exhibitions. Prices from £171 (second class).
Swiss International Air Lines
SWISS offers over more than 170 weekly flights from London City, Heathrow, Gatwick (seasonal), Manchester, Birmingham, Edinburgh and Dublin to Zurich, Geneva or Sion (seasonal). One-way fares start from £67 including all taxes, fees and surcharges, one piece of hold and hand luggage and also a snack and refreshments are included in the Classic fare. SWISS will also transport your first set of ski or snowboard equipment and boots free of charge in addition to your standard free baggage allowance subject to availability (excluding hand luggage only fares). For more information visit swiss.com, or call 0345 601 0956.
Hotel Schönegg
For more information and prices, see the hotel website HERE, or ring them on +41 33 855 34 22.