Mindful skiing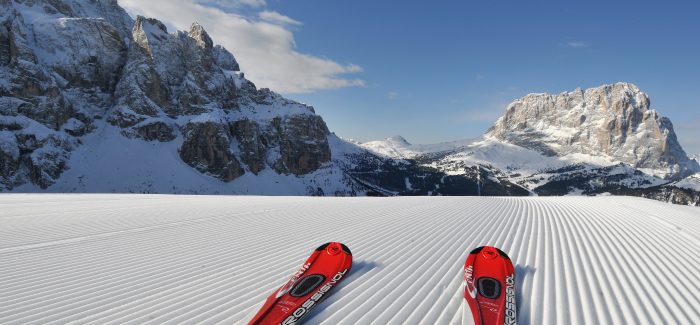 If careering down steep icy slopes at breakneck speed doesn't appeal to you, or crowded Christmas and half-term slopes for your family snowsport holiday this season, then perhaps you should consider 'Mindful Skiing'.
Let's face it… it's been a stressful few weeks for those of us parents anxiously awaiting A-level and GCSE results.  So perhaps it was fate that, just one day after the GSCEs came through, so did details of 'Mindful Skiing'.
'Mindful Skiing' is a sport everyone can participate in, with a host of health benefits.  Glide through the peace and tranquility of snow-covered valleys, with no queues, no noise and low impact exercise. What an elegant way to enjoy nature and the environment.
'Mindful Skiing' allows you to escape from the crowds, or to take a 'grown-up' winter holiday away from the kids, taking in the serenity of magical virgin snow and beautiful forests. Of course, kids can come too (perhaps those slightly older, wiser ones, who've just taken their public exams?) but they have to behave… otherwise it would be a considerably less-than-mindful experience!
And where better than the beautiful Hotel Rosa Alpina in the Italian village of San Cassiano, which offers mindful cross-country skiing, with the backdrop of the Dolomite mountains, a UNESCO World Heritage Site.
New to cross country skiing?  Then think again… Research by the Mayo Clinic credits cross-country skiing with boosting ability to think, lift one's mood and improve sleep.  Good genes can help you live a long life, but if you want to fully enjoy those later years, go skiing according to the Scandinavian Journal of Medicine & Science in Sports.  One of the main differences between cross-country skiing and other forms of endurance exercise, like running and cycling, is that the upper body plays a bigger role and it has a low impact on the joints.
Five nights at Rosa Alpina for 'Mindful Skiing' is available from €2,960, based on two adults sharing a De Luxe room on a B&B basis, including four daily one hour morning private lessons, skis, poles and entry to the training circuit and 26km of cross-country trails.
In addition, the Rosa Alpina concierge team will propose a series of gentle snow walks, with and without snow shoes, along the river between San Cassiano and La Ville or Corvara or the pilgrims' journey at Santa Croce.  Yoga lessons can also be arranged as an option.
For apres ski, there are three restaurants to choose from within the hotel, including a snug wood-clad fondue restaurant and the celebrated St Hubertus restaurant, with its crackling fire and – as of 2018 – three-Michelin-starred cuisine.
And an elegant spa and wellness area where you can be pampered personally from top to toe – I personally fancy the Alpine Herbs massage relief, with pine, arnica and melissa.  Bliss!
Mindful skiing is available from 16-21 December, 12-17 January and 20-25 January.  A three night offer is currently available from €2,050.
Go on… spoil yourself!
For further information/reservations, please contact Rosa Alpina on +39 0471 849 500, reservations@rosalpina.it or rosalpina.it