Gap year ski courses Above Ordinary Below Zero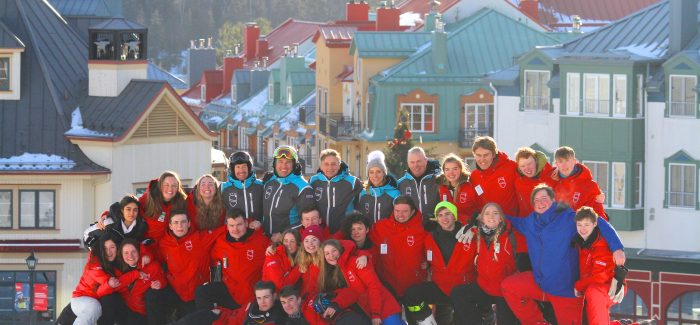 Making gap year plans?  Consider Ski le Gap – the original gap ski and snowboard instructor company – which has just launched its new programme for the 2019 winter season, based in the resort of Mont-Tremblant, Canada.   
With over 20 years of experience and more than 3,000 successful students gaining CSIA or CASI (Canadian Ski Instructor Association – Canadian Associated of Snowboard Instructors) qualifications, Ski le Gap has evolved its courses into an intense 10 week programme dedicated to skiing or snowboarding, which offers a wide range of experiences that provide life-skills as well as world class training.
Considered a cut above the rest when it comes to training 'gappers', little wonder their company catch-phrase is "Above Ordinary Below Zero".
These 'constructive' GAP year courses are unlike those offered by other ski schools are they're designed to enhance future career prospects – not only by providing the internationally recognised CSIA-CASI qualification, but also by offering optional French language classes throughout the course. What's more, during weekends, cultural trips to the city of Montreal, Ottawa and Quebec City are organised, not to mention some awesome parties.
At the end of the course, there's even an opportunity to gain work experience as a ski or snowboard instructor for Tremblant Ski School during the season in-between the Level 1 and 2 qualification, and after the course should students wish to stay on until season end.
And you'll also form some life-long friendships with like-minded snowsport fanatics from around the globe.
The company was founded over 20 years ago and operates exclusively in Mont-Tremblant, Canada.  It's the original ski GAP course company, designed specifically for gap year students.  Their courses are all-inclusive and students are joined by Ski le Gap staff throughout the programme.  The coaches have the highest qualifications (CSIA Level 4) and are employed directly by Ski le Gap specifically to train 'gappers', rather than simply being a branch of a standard ski school.
Ski Course Director, Charlotte Dawson, says: "Our Ultimate Experience is our longest running program – it sets the standards for all the others out there. Ski le Gap is widely recognised as the leading provider of GAP ski instructor courses in the UK, with our courses specifically designed for gap year students. Our students have a 100% pass rate for the Level 1 and the majority of them come away with the Level 2 qualification following the 10 week programme. Our 'gappers' come away changing skiing as their hobby to skiing as a qualification on their CV's, and we know from so many of our previous 'gappers' what benefits not only the qualification, but the experience, means to future employers".
Sir Richard Branson's daughter, Holly, was a past student of Ski le Gap and he said: "Ski le Gap was definitely the best part of Holly's gap year. She made so many good friends and had an absolute ball."
This season's 'Ultimate Experience' course runs from 6th January – 16th March, 2019 and costs £8,875 pp for 10 weeks. That includes: coaching 5 days a week, full season pass, full-board 7 days a week (breakfast, lunch and supper) accommodation, CSIA membership and Level 1 fees, first aid course, trips and activities, 24 hour Ski le Gap staff on hand, personal mentor, airport transfers and additional benefits.  (Click HERE for further details of the 10-week ski instructor course; and HERE for the 10-week snowboard instructor course.)
There's also an 'Intensive Training' Course that runs for 4 weeks (January 6 – February 2, 2019) and costs £4,550 pp with a Level 1 qualification outcome and a chance to work for the ski school at the end of the course. (Click HERE for further details of the 4-week ski instructor course; and HERE for the 4-week snowboard instructor course.)
So what are you waiting for?  Check out this fantastic experience, simply by clicking the Ski le Gap website HERE or ringing 020 7731 5432!
As for "Above Ordinary Below Zero" – just think… that could soon be you!
All images courtesy of Ski le Gap.