Valmorel goes virtual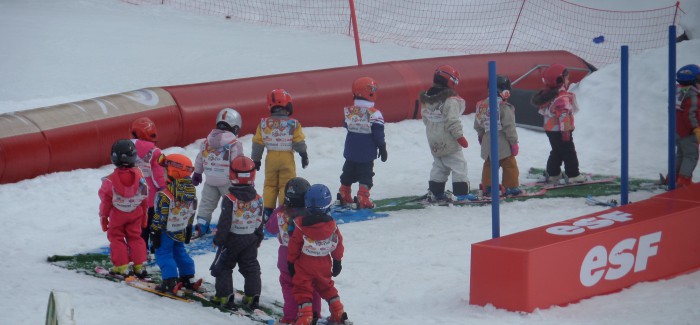 Many resorts say they are 'family friendly', but reporter Briony Key discovered now Valmorel goes the extra mile to make sure these words have true meaning, and how the resort is encouraging everyone to see for themselves by taking a 360° virtual trip before they travel.
The French resort of Valmorel scooped the Telegraph World Snow Awards for the Most Improved Family Resort 2014 last season and, having spent time in the resort already this year, I would say it was a just reward.
Keen to keep ahead, Valmorel has recently launched valmorel.com as its latest venture, so that you can see where you might ski and stay before you commit to travel.
It's simple: just click HERE for a fun and informative self-guided virtual view of the resort and the slopes; or – to explore Valmorel by video at ground-level through the streets of the resort centre or with a bird's eye view (attached to a paraglider), click HERE – and you'll find yourself transported straight to this welcoming, fun resort at the heart of the French Tarantaise mountains.
Once you are there 'for real', the resort promises no less than 30 activities, including walking, cross-country, skiing, snowshoeing, tobogganing, dog sledding, snow buggies, bob luge, air board, paragliding and micro lighting.
A new 'must-do' activity for this season is "snow-kart" or sledging (in the centre of the resort at the Hameau du Mottet), which will run every night at 16:45 with an ESF instructor leading a thrilling descent from the top of the Pierrafort cablecar all the way back down to the resort.
Something I especially loved about Valmorel was that you can see people enjoying all the various activities while you are on the slopes.
Back in resort, there's also a cinema, cookery workshops and relaxing thermal bath for off-slope fun.
I tried my hand at the cookery course, which was held in French. It was fun to take a class in a second language, aided greatly by sign language from the teacher – and other French women on the course – who clearly had far more idea how to make the local speciality Tartiflette than I did! (Fancy a go yourself?.. You can see a recipe for Tartiflette alongside some of our other favourite mountain recipes in our Alpine Cuisine section, including Alpine ravioli and Swiss mountain ice-cream, by clicking HERE).
After my culinary efforts, it felt blissful to escape to the spa and reflect on the resort and my attempts at savoir-faire, as I gazed at the mountains through the bubbles.
And my spa-soaked conclusions? Valmorel is still something of a secret as regards the British ski market – Brits make up just 10% of current bookings there.  So don't delay and get ahead of the crowd! In my view, the resort's three-year drive to boost its family-friendly reputation has paid off, and it's only a matter of time before more of us will want to ski there.
So where is Valmorel?
Valmorel is the first resort as you enter the Tarentaise Valley, an hour from Chambery and 35 minutes from Albertville – in other words, a nice, quick transfer from the airport or train station.
It's also the main resort in the Grand Domaine ski areas (165kms of piste), which also includes Celliers, Doucy, La Léchère and Nāves – ideal for those family members looking to clock up the kilometres while their toddlers scale the snow castle!
Founded by the Dutch, Valmorel's low-plan design (with tightly restricted building rules) and magnificent alpine backdrop makes your holiday home feel more like a mountain town than a purpose-built resort. The buildings, predominantly wood, stone and slate, blend well with the environment and make the hotels, restaurants and apartments feel connected with the mountains. It's possible to ski right back to many of the hotels or apartments – always a plus-point with families.
The town centre is pedestrianized – ideal for young families – and unlike some of the bigger, less-homely resorts, the pretty, narrow streets have plenty of welcoming family-friendly restaurants too, which everything from set menus to à-la-carte – reasonably priced, from as little as €7 for lunch.
Younger guests
Unsurprisingly, Valmorel has excellent facilities for tinies: there's a crèche (for 18 months to three years); a protected beginners areas; and the ESF children's club – Piou-Piou (for 18 months to six years) with special entertainment activities for younger folks.
It was heart-warming to hear the children's laughter, grappling with their snow ploughs, as I walked past the Piou-Piou club en route to the slopes each day.
The new family-dedicated leisure area, Pirate Adventure, is also very popular with families as it rolls together a picnic area, a meeting place (for skiers and non-skiers), and a play area – complete with drums, tables and a pirate-themed snow castle at the heart of the ski area.
Seeing all ages of the same family share lunch, and then watch their youngest enjoy the castle made me realise just how easy this resort has made life for older guests – or those who do not wish to ski – to enjoy the mountains as much as everyone else.
It comes as no surprise that Valmorel has the Famille Plus label – a national French tourism award given annually to resorts which go the extra mile for families (which we featured in an earlier story 'Family-friendy French resorts' .
The skiing The town's 120km ski area is ideal for improvers, as it doesn't get too crowded, and there's plenty of time and space to work on your turns, and to ski lots of cruisy blue and green runs, which really boosts your confidence. The tree-flanked green run down to Doucy is ideal for beginners, or for a warm up, with its carefully planned 5.7% incline.
I skied Valmorel in early spring, when the pistes were quite icy in the early morning, but it wasn't a problem as conditions soon changed as the day went on. The only negative was it can get very busy on the slopes towards the end of the day, on the soft, slushy snow at the base of the blue and red runs heading into town. You need to keep an eye out for those beginners and early intermediates, skiing on very tired legs, who seem to be heading straight towards you!
Briony stayed at the Hotel du Bourg www.hoteldubourg.com, which offers a friendly base at the heart of the resort.
Other related posts:
Family-friendly French resorts
Ski in Europe – an overview
France is number one ski destination

Other French resort reports:
Teenagers ski Les Menuires
Affordable family skiing in France's Maurienne Valley
Happy days in the Hautes Pyrenees
Half term in Le Grand Bornand