Northern Lights in the UK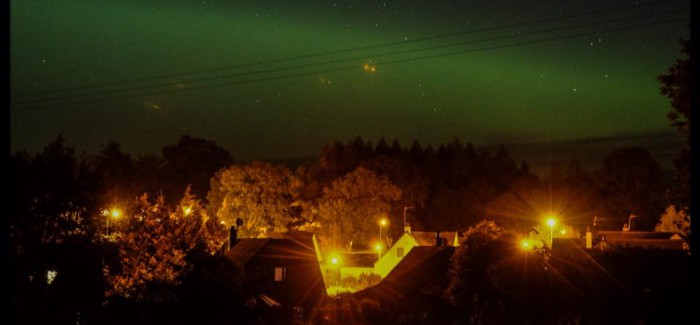 Great Britain was treated to a rare display of the Aurora Borealis – better known as the Northern Lights – this week.  has been visible over parts of the UK.  The Aurora Borealis is usually seen over Iceland and Scandinavia but it's been amazing stargazer was seen as far south as Wales with its dazzling coloured skies.
Don't worry if you missed last week's displays of natural fireworks, forecasters are optimistic we should be seeing some more spectacular aurora skies in the UK over the next few weeks.
Of course, the further north you travel, the more frequent the displays of Northern Lights and the more intense the colours and patterns. Most of the aurora activity takes place near the North Pole.
These beautiful but elusive displays – are caused by the interaction of the solar wind – a stream of charged particles hurtling into the atmosphere from the Sun – and colliding with our planet's magnetic field.  The particles are drawn to the magnetic poles where, they light up the night sky in wispy, glowing streaks of blue, green, red, yellow, pink…
After violent bursts of solar activity, these auroras can extend further south – as we saw in the UK last week.
The magnetic field's activity is measured on a scale called the Kp index, which runs from 0 to 9 – though this can change from hour to hour.  You can see the Northern Lights in northern Scotland with a level as low as 3.  In 2014, there were Kp levels of around 6-7, with dazzling displays across the UK and the Channel Islands.
Although their Kp levels are hard to predict with great accuracy, forecasters are expecting some more displays over the UK in forthcoming weeks.
Magnetic storms are expected tonight, according to the NWS Space Weather Prediction Centre's 3-day aurora forecast, due to "the onset of a positive polarity coronal hole high speed stream".  The predicted activity is expected to be as high as Kp5, which means northern parts of the UK could see the Northern Lights depending on the cloud cover.  Currently, Northern Ireland and western Scotland are expected to have clear skies while eastern parts may see more cloud.
For tips on how to maximise your chances of seeing the lights, click HERE.
You can find out more about the science behind the Northern Lights and how they occur, in our previous feature What are the Northern Lights? by clicking HERE.
Of, if you'd rather head north to ensure a better chance of viewing the aurora displays, check out some of our favourite Arctic and Scandinavian holiday suggestions for the winter months – from leisurely Norwegian cruises to driving your own team of huskies or sleeping in a Swedish treehouse – by clicking HERE.
Top image of Gartmore, Scotland, courtesy of Ian Dawson
Other related posts:
What are the Northern Lights
Let there be light