James Bond in Austria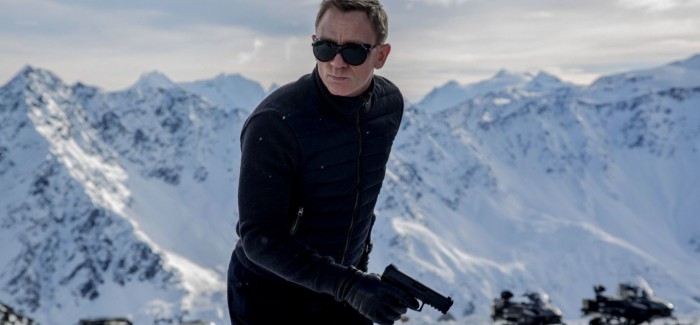 The 24th James Bond film, SPECTRE, will hit the big screen tomorrow, Monday 26th October 2015, filmed against a backdrop of the Ötztaler Alps in Sölden and the mountain village of Obertilliach in East Tirol.
A total of thirty three days of filming took place in the Tirol, as we reported in an earlier 007 story, back in January. For those who enjoy statistics, the cast and crew totalled 30,000 overnight in Tirol, Carinthia and Styria; this included 600 filmmakers (of which 250 filmmakers were Austrian) and 210 suppliers from Austria and the Tirol.  They spent a staggering € 8.9 million on production-related expenditures in Tirol (including accommodation, meals, transportation and fees).
007 in Sölden
One of the highest mountain roads in the Alps, a mountain lift station that looks like curved ribs of steel and a design restaurant in the shape of a giant ice cube: the ski resort of Sölden in the Ötztal valley of Tirol, Austria, provided a complete mix of everything they needed for one of the main action scenes in the new James Bond film.
Speaking on set in Sölden, Associate producer, Gregg Wilson, explained how he wanted to deliver "an amazing sequence", which will be one of the major action sequences in the movie. He promises it will be "spectacular" and added that 'Austria seemed to have everything we needed to pull it off'.
For Dennis Gassner, Production Designer, it had been a long journey through many countries, seeking a location to fit with what they were looking for and as he puts it: "what could be more exciting than to be up there, on top of the world?" The ICE Q restaurant, located at 3048m at the top of the Gaislachkogl, ticked all the boxes for that "unique, modern facility" that they were after.
Sölden is renowned for its excellent snow reliability thanks to two high glaciers, an impressive lift system and a lively après ski scene. Easily accessed from Innsbruck (about one hour away, and served by easyJet, BA and Monarch airlines from the UK), its consistently good snow conditions, along with over 140km of slopes, make it a top Tirolean ski and snowboard destination.  If you want to follow in the footsteps of James Bond, Crystal, Ski total, Snow-Wise and Ski Solutions are all offering package holidays to Sölden this season.
007 in Obertilliach
The village resort of Obertilliach, located in East Tirol, also plays a leading action role in 'SPECTRE'. Filmed over several days in January 2015, the scenes feature a traditional mountain hut, which becomes the focus of a spectacular explosion. The so-called "Bond House", as named by the locals, had originally come from the neighbouring region, Styria, having been dismantled and re-assembled on the slopes of the Golzentipp ski area, specifically for the film.
Four locations in and around Obertilliach will feature in the film, including scenes from the Grade II listed historic village centre of Obertilliach. Mayor Matthias Scherer said: "I knew in March 2014 that the production company had chosen Obertilliach, and for a tourist destination, like us, it was like winning the lottery. It's not every day that a small community of 687 has a British secret agent coming to visit".
The village of Obertilliach is located in the Lesachtal of East Tirol and remains largely undiscovered to the UK ski market. Located at 1450m, the village has a small skiing area, which is popular for beginner skiers and families as well as a centre for Nordic sports.
If you want to visit, the East Tirol tourist board website has an online booking service, which searches everything from hotels and apartments to B&B's and farmhouses. The nearest airport, Innsbruck, is just three hours away by car and, in December 2015, the new 4* Almfamilyhotel Scherer will be opening in Obertilliach.
For further information on these resorts, check out the websites for Sölden and the East Tirol.
As well as the Austrian Alps, the movie was also shot at Pinewood Studios and on location in Tangier and Erfoud in Morocco, as well as London, Mexico City and Rome.
Here's the trailer to the movie:
And a fascinating peak behind-the-scenes at some of the stunts and special effects to whet your appetite before the premier tomorrow.
130 million movie fans watched the previous film "SKYFALL". The production company expects even more to watch "SPECTRE".
It's been reviewed as "The best Bond ever"!
Have you booked your cinema tickets yet?
Other related posts:
James Bond filming in Austrian ski resorts
How to meet James Bond on Valentines Day
James Bond is fifty today!
James Bond quits skiing
007 Walk of Fame opens in Switzerland