The return of primitive skiing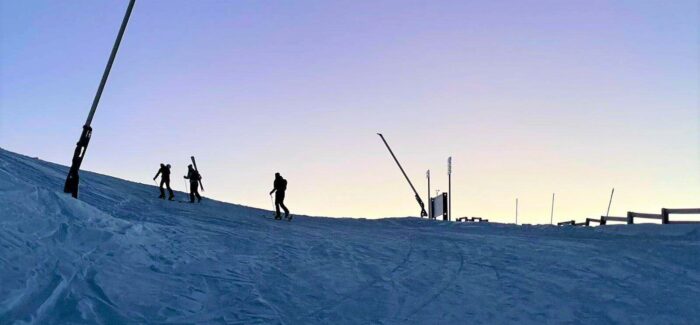 With hotels shut and international travel at a stand-still, skiing is now a local pastime. But even for the locals, much has changed. Without all lifts open and only several pistes available, skiing has been forced back in time. Back to good old-fashioned skinning, as Rory Smith reports from Tignes.
Skinning has emerged as the latest ski trend – the fastening of animal skins to the bottom of your skis, allowing a gliding and gripping movement up the mountain.
Skinning was invented in the 1930s, and is not the same skinning we see today. When discovered, real seal hides were used to create this grippy addition to skis, allowing arctic people such as the Eskimos to travel long distances across the snow. This innovative idea made ski touring possible, trekking into the backcountry and then being treated by a ski down, cut off from the rest of the world.
Now, in this bizarre time, skiing has been transported back centuries, to times before the chair lift. With only a couple of lifts open, pistes are limited, making the sport most repetitive, even tedious. Instead, locals find fulfilment in ski touring up itineraries and off-piste routes and, once reaching the peak, dropping into well- deserved untouched powder.
This primitive technique often unlocks access to snow normally out of reach for less experienced skiers. To be able to have complete free reign of where to ski is what ski touring is all about.
However, with this thrilling practice comes caution and the need for experience. Backcountry skiing is not without its risks. Specific kit is needed in the case of an avalanche, and the know-how from yourself and your ski guide. But for many the sense of accomplishment when reaching that backcountry summit, heavily outweighs the risks.
One such local is Eliza Goodfellow, who embarked on her ski season to Tignes, only for it to be altered by the pandemic we all know. Here's Eliza's account of her wild ski season:
"It was some of the best skiing I've ever done and we pretty much had the mountains to ourselves the whole time. I've learned to appreciate lifts having walked up pistes underneath them, sometimes running with no people on them. But equally I began to enjoy the skin up and how rewarding it was getting to the top without lifts."
"Sunrise tours are sick as well which I definitely wouldn't have done if lifts had been running."
All featured images credited to Eliza Goodfellow