Ski, Spa and Sella Ronda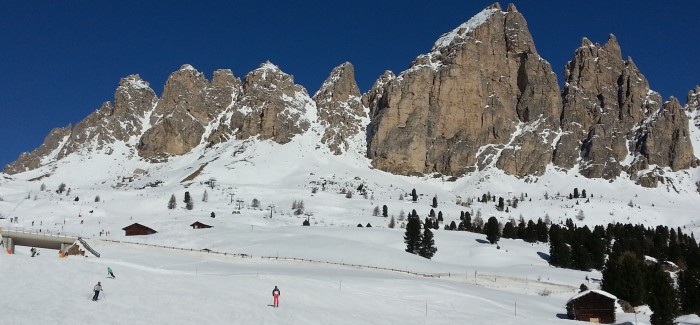 Teresa Fisher, FamilySkiNews' editor, has just returned from a luxurious ski-and-spa long weekend in Val Gardena in the South Tyrol.  Situated in Italy's northernmost province, Val Gardena is a unique and fascinating ski region which successfully combines Tyrolean gemütlichkeit with Italian joie-de-vivre. 
On the first day, she skied the Sella Ronda, the famous circular ski tour of the Dolomites…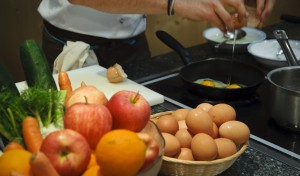 I had a big day ahead of me so I needed a hearty breakfast. That was my excuse anyway, at the breakfast buffet of the AlpinGarden Wellness Resort in Ortisei, where I was staying for a long deluxe ski-and-spa weekend.  I'd never seen such a generous spread: mountains of breads, buns and pastries; eggs, omelettes and crepes; heaps of fresh fruits and berries to pile on the vast array of cereals, nuts, seeds and muesli, and chocolate cake… yes, chocolate cake for breakfast!  Well, sometimes needs must!
As I lugged my skis from the boot room, I wondered whether I'd perhaps eaten rather too much for my ski tour. At least the additional weight would mean extra vitesse.
My over-indulgence was soon forgotten as I stepped out into the blazing March sunshine to be greeted by the distinctive silhouette of the Dolomites on the horizon. They're mountains which never cease to amaze:  Their sheer cliff-faces and craggy pinnacles, spires and jags are like no other mountain formations in Europe, and they contain a unique dolomite mineral which reacts dramatically to changes in the light, turning them from warm oranges, pinks, reds and purples at dawn and dusk to pale and almost evanescent hues at midday or in moonlight – earning them the epithet "I Monti Pallidi" (the Pale Mountains).  Little wonder they're included on the World Heritage List.
We started our ski tour in the neighbouring village of Dantecepies.  We were skiing the Sella Ronda – the best-known circular ski tour in Italy – which goes over four passes: through four Ladin-speaking valleys (Val Gardena/Gröden, Alta Badia, Arabba and Val di Fassa); and three Italian provinces (Trentino, Veneto and South Tyrol).
The circuit is around 44km in length and rings the Sella massif of the Dolomites.   It is of medium difficulty, with occasional options for more advanced runs.  It can be skied in both directions with a Dolomiti Superski ski-pass.  They say the clockwise route is more challenging, with more steep descents.  I'd skied the route anti-clockwise last year, and so I was keen to try it the other way round. Conditions were ideal: cloudless blue skies, a warming sun and perfect snow.
Our route took us from the top of the Dantercepies gondola over the Gardena pass and down into the Alta Badia valley to Colfosco and Corvara; then over the Campolongo pass and on to Arabba (in the Veneto region of Italy) – which boasts some of the steepest slopes of the Sella Ronda. Onward and upward over the Pordoi pass and past the Marmolada, the "Queen of the Dolomites" (the highest peak in the Dolomites and the largest glacier); past Canazei in the Val di Fassa (we were now in the Trentino region) and over the Sella pass.  By now… three-quarters of the way round… surely wed earned ourselves a lunchbreak?
On the sunny terrace of tiny mountain restaurant Fienile Monte, beside the piste with the Sella massif as our backdrop, it was time to check out the local tipple, "Hugo" – a refreshing spritz of pink Prosecco, elderflower syrup, lemon and fresh mint (click HERE for the recipe). Over beef carpaccio, Schuttelbrot (crispbread flavoured with fennel) and pasta with truffle shavings, we marvelled at our whistle-stop tour of three Italian provinces and contemplated the region and its charming hotchpotch of styles.
This northernmost slice of Italy remained under Austrian rule until as recently as the end of the First World War and, although today it lies firmly within the country borders of Italy, the area's Tyrolean influences remain very apparent, from the architecture – traditional wooden chalets and onion-domed churches – through to the food, a striking culinary conglomeration of pizza, pasta, dumplings, spaetzli and strudel – arguably the best of both worlds!
The historic border changes also explain why everyone here speaks Italian and German (and most speak English too); and why there's more than one name for everything: South Tyrol is Südtirol in German, Alto Adige in Italian; the valley of Val Gardena in Italian becomes Gröden in German; the resort town of Ortisei (where we were staying in the charming five-star Hotel AlpinGarden) becomes Sankt Ulrich in German; Selva becomes Wolkenstein in German, and so on.
The locals' native tongue is Ladin – an ancient Latin-based romance language related to the Swiss Rhaeto-Romansh and Friulian languages, spoken by just 35 thousand people in the South Tyrol, which sounds to the untrained ear like a lyrical mixture of Italian and German. That means most people here are at least trilingual, if not quadralingual.  Children here learn three languages from an early age in school and add English later on.
The Ladins are a passionate, hospitable people, proud of their unique heritage and eager to share it. The region attracts almost as many visitors in summer months as it does snowsport fanatics in winter. It offers guests a winning blend of teutonic efficiency and Italian flair, and the entire Dolomites region is known for its culinary finesse, not to mention its fine wines…. all in all, perfect ingredients for an indulgent ski holiday.
Soon after lunch, we stepped gingerly back onto the merry-go-round of slopes and ski lifts that forms the Sella Ronda. Just a couple more lifts and a couple more runs and we'd reached Selva at the end of our circuit.
From here, our hotel shuttle-bus ferried us back to the hotel to a warm reception by Rolfi the hotel dog, tail wagging furiously at the front door. No time for petting now though… I was heading straight to the hotel's 5-star basement spa to sooth my aching limbs after a long, hard ski.
I was spoilt for choice – indoor pool, outdoor, whirlpool, hammam, hay bath (yes, mountain hay!..), sauna, salt sauna, Finnish sauna, alpine sauna, steam room… I was like a kid in a candy shop. How many could I try before dinner?  As it happened, not that many… following a swim, a Jacuzzi and a sauna, I found myself wrapped top-to-toe in hot towels, snoozing in the chill-out zone.  It was the perfect end to an amazing day in the Dolomite mountains.
Teresa Fisher stayed at the 5* AlpinGarden Wellness Resort www.alpingarden.com in Ortisei which offers a range of late Winter/Spring  packages from Euro 856 for 7 nights' half board, based on two people sharing
Nearest airports are Innsbruck, Verona, Venice and Milan Bergamo with airlines including EasyJet, Ryanair and BA
For more information on Val Gardena go to www.valgardena.it/en email info@valgardena.it or call 0039 0471 777 777
Sella Ronda ski tips:

The Sella Ronda tour takes a full day – it shouldn't take you any longer than 5-6 hours for the less-experienced (or for those stopping for a lazy slopeside lunch); 4-5 if you're a more proficient skier.  It is not suitable for beginners (as it's a big ski and there are some steep descents) or for those who enjoy a couple of runs and then a coffee; you need to be an intermediate skier with stamina.  Each way there's a comprehensive network of chairlifts and cable-cars to facilitate the tour. Just follow the signposts: orange for the clockwise tour, anti-clockwise in green!  Anticlockwise, the route is 45km long, with 17 lifts; clockwise, it's 44km, with 15 lifts and possibly more sunny slopes. And do remember that lifts close between 4pm and 5pm depending on the time of year, and that taxis are expensive if you get it wrong or give up halfway round!