Ortisei Spring Race Party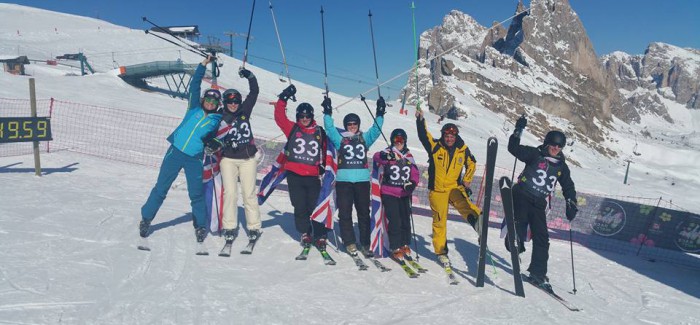 Last week Teresa Fisher, our Editor, flew out to Ortisei in the beautiful valley of Val Gardena in the Dolomites – one of her favourite ski areas – in search of good snow, fine cuisine, Italian sunshine and a spring party atmosphere.  She got rather more than she was bargaining for…   
I knew it was going to be an epic ski day when the first run of the day in Selva was the World Cup Grand Slalom slope, and the second run was the celebrated Val Gardena Men's Downhill, the "Saslong".
"We're warming up for the race", cried out Christina our guide from Val Gardena Tourism, "just let it go… straight ahead… like this…" and off she schussed off, leaving a spray of powdery white snow in her wake.
Both pistes were wide, firm and not overly steep as black runs go. The first is a lovely run down from Ciampinoi to Selva; the second is best known to us Brits as the piste where Konrad Bartelski achieved the best result ever by a British skier in a World Cup race when he finished second at Val Gardena in December 1981, just 11 hundredths of a second behind Austria's Erwin Resch.  It took him 2.07.53 minutes… it took us just under 7. Good race training nonetheless.
We were spending a few days in the valley of Val Gardena in the Italian Dolomites, and had spent the previous day skiing the Sella Ronda circuit, which you can read about HERE. But today was the climax of our visit, the day of the big race – the Ortisei Spring Race Party.
Our first pitstop before the race was a swift aperitif in the Comici Hütte, famed for serving the highest, and some of the finest, fish in the Dolomites. If that sounds somewhat unlikely, it is owned by the Comici family who also run a fish restaurant on the Adriatic coast, and they ship fresh shrimps, oysters, lobster and other seafood to their mountaintop restaurant daily.  With its white-washed exterior and azure paintwork, the Comici certainly looks a fish out of water compared with the other more gemütlich chalet-style restaurants on the slopes but its fishy menu is acclaimed and its aperitifs are second to none.
We enjoyed a simple Hugo – a light and refreshing Prosecco spritz (click HERE for the recipe), and then it was time to get back on skis and cross to the opposite mountain – to Seceda on the sunny side of Val Gardena.
Some more speedy skiing on cruisey blues and reds in the blazing sunshine, and we'd built up an appetite for lunch at the Daniel Hütte, with its beautiful views of the Langkofel massif and the Sassolungo, its highest mountain (3,181m).
Here we enjoyed some mouth-watering fresh pasta and a couple more Hugos on the sunny terrace with our main race rivals, the Dutch team, who happened to be staying in the same hotel as us, the bijou AlpinGarden Hotel and Spa in Ortisei, the smallest five-star hotel in the valley.
Before we knew it, it was time to time to don our Team GB garb and head to the race briefing.
All we had were Union flags to wear as capes and the remnants of the Dutch face-painting supplies.  As we prepared, we were passed by skiers dressed as Vikings, firemen, flower girls, babies… We still had no idea quite what we'd let ourselves in for, and we were seriously beginning to wonder what would happen next…
At the race briefing, each team was allocated an instructor. Andreas was in charge of Team GB. He explained how the race had to be completed in between 2 hours and 2 1/2 hours.  There was no prize for being quick; indeed we would be disqualified if we completed the course too quickly or too slowly.
There were five stages to the race, and five mountain huts en route serving drinks and local specialities. At each hut, we needed to complete a challenge for points: the first was a straightforward slalom course, then there was balloon-popping with darts; lowering a key into bottles of various heights from a belt without using your hands; apple-bobbing and crazy golf.  Between each challenge, we needed to ski a 10km piste down to Ortisei town-centre, where we would ski into the main square to cross the finish line.
Our start time was 14.51.  Race bibs on – number 33 sounded lucky – and we were off…
A handful of turns later we were at our first challenge – the Dutch beat us in the slalom by a 100th of a second.  Then round the next corner, a cosy chalet awaited us with an extensive buffet, a Pear Williams schnapps and some balloon popping.
Onward and downward to the key game, another buffet, and more schnapps for those wishing to imbibe, then to the next hut and so on. I'd drawn the short straw and ended up bobbing for apples. I was pleased with my efforts, though they were meagre compared with some teams.  We were rather better at the mini golf, so we celebrated that with a buffet and a schnapps.
"Quick, we've done too much eating and drinking…" cried Andreas.  "We're about to be disqualified."  We hastened to our skis, and shot off towards the finish.
Determined to get our act together for the finish, we decided to hold hands to ski the snowy runway down the high street of Ortisei flanked on either side by cheering locals. But it wasn't to be a sophisticated finish… there wasn't enough space for us all side-by-side on the skiers' catwalk; someone tripped; we were a sprawling mass of flailing poles and limbs, and I nearly ended up careering headfirst into a passing shop.
By the time we entered the main square of Ortisei, we'd managed to coordinate ourselves sufficiently to cross the line in a vaguely decorous fashion (and with just 2 minutes to spare before disqualification) to the accompaniment on loud speakers of "God Save the Queen"…. NOT the National Anthem, but rather The Sex Pistols version! It summed up our efforts rather well as we clamoured onto the stage to celebrate.
The results were announced at dusk. We hadn't beaten the Dutch but, by some miracle, we had ended a remarkable 12th out of 44 teams.  The main square was ablaze with huts twinkling with fairy lights and selling everything from beer to Bratwurst; and locals and skiers dancing to the local DJ sounds in their ski boots…. the Ortisei Spring Race Party was just beginning!
Click on this link to see a short video clip of what actually happened to the team at the end of the race – we so nearly didn't make it to the finish line: Ortisei Spring Race Party 2016 (courtesy of MadDogSki).
Teresa Fisher stayed at the 5* AlpinGarden Wellness Resort www.alpingarden.com in Ortisei which offers a range of late Winter/Spring  packages from Euro 856 for 7 nights' half board, based on two people sharing
Nearest airports are Innsbruck, Verona, Venice and Milan Bergamo with airlines including EasyJet, Ryanair and BA
For more information on Val Gardena go to www.valgardena.it/en email info@valgardena.it or call 0039 0471 777 777.