New spring sunglasses from Panda Optics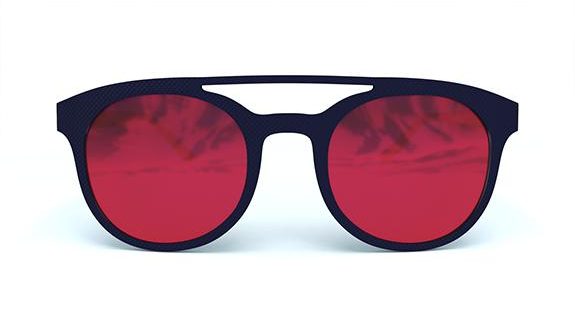 All this gorgeous sunshine calls for some new sunnies.  Here's our editor sporting her new pair – PandaOptic's new Tide polarised sunglasses (together with a pair of Panda Optic's Diablo goggles).
We love the trendy "Tide" design with their narrow frames and discreet logo.  They come in two colorways, called 'bold' (white) or 'discreet' (navy blue).  Actually we think the blue ones are rather bold and eye-catching and our editor was certainly not short of compliments when she wore hers skiing recently.
Here's the technical bit: the orange-purple mirrored lenses are fully polarised and offer 100% UV protection.  They are category 2 VLT (18-45%) and also reduce blue light, creating a greater contract of colours.
The hinges are made using unique steel C-hinge technology which keeps the sunglasses' arms rigid for five times longer than regular hinges.  And, unlike so many of the wrap-around ski sunglasses on the market, their slim arms are really comfortable – in fact, barely noticeable – around the ears, especially when worn all day under a helmet.
The snazzy matt frames are made of lightweight thermoplastic material with enhanced durability and flexibility.
Here at FamilySkiNews.com, we're big fans of Panda Optics.  You can read our reviews of the Diablo goggles with their quick lens changing system and the children's "Cub" version, which we trialled earlier in the ski season, during white-out conditions and when the light was generally rubbish.  Now we're thankful for the long-awaited spring skiing, and we rate the Panda Optics sunnies 10 out of 10 too.
So go on, treat yourself!…
The "Tide" sunglasses and other models ("Cove" – in black and orange) are available online HERE, and all cost just £54. They come in a smart magnetic flip-lid box for storage with a useful microfibre bag to shove in your ski jacket pocket for easy cleaning.