World Snow Awards public vote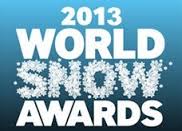 Tomorrow is the last chance to vote for the World Snow Awards.
Two categories are to be judged by a public vote.  They are 'UK Specialist Retailer' and 'UK Tour Operator'.
In the running for best UK Specialist Retailer are Carters of Reading, Edge and Wax, Ellis Brigham, Ski Bartlett, Snow + Rock, Sport Pursuit, Sputnik Snowboard and Tresspass.
In the UK Tour Operator, choose from Crystal Ski, Inghams, Erna Low, Nonstop Ski & Snowboard, Ski Famille, Ski Independence, Ski Solutions, Ski Weekends, Skiworld and VIP Ski.
Have you voted yet?
To have your say, just click here and vote.
Voting closes at midnight tomorrow (17 October).
For full details of all the categories and their nominations, click here.
Other recent posts:
First snowfall for Sochi
Fresh powder for the Kaunertal Opening
Where is Beitostølen?
The ski season has begun
World Snow Awards