Team GB announces ski and snowboard Winter Olympic squads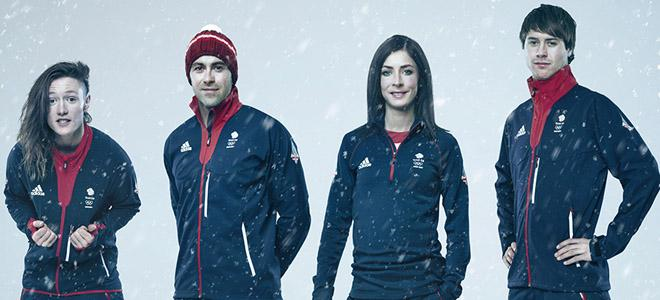 Team GB announced its ski and snowboard Olympic squad this morning.
So, without further ado, here's the list of British competitors:
DAVE RYDING (Alpine Skiing)
CHEMMY ALCOTT (Alpine Skiing)
ANDREW MUSGRAVE (Cross Country)
ANDREW YOUNG (Cross Country)
CALLUM SMITH (Cross Country)
ROSAMUND (POSY) MUSGRAVE (Cross Country)
JAMES WOODS (Ski Slopestyle)
KATIE SUMMERHAYES (Ski Slopestyle)
MURRAY BUCHAN (Ski Halfpipe)
JAMES MACHON (Ski Halfpipe)
ROWAN CHESHIRE (Ski Halfpipe)
EMMA LONSDALE (Ski Halfpipe)
ZOE GILLINGS (Snowboard Cross)
BILLY MORGAN (Snowboard Slopestyle)
JAMIE NICHOLLS (Snowboard Slopestyle)
JENNY JONES (Snowboard Slopestyle)
AIMEE FULLER (Snowboard Slopestyle)
BEN KILNER (Snowboard Halfpipe)
DOM HARINGTON (Snowboard Halfpipe)
Congratulations everyone… we wish you all the best of luck!
On reflection, it's an amazing 19 skiers and snowboarders for Team GB – one of the largest teams ever selected to represent GB at a Winter Olympics, as Mike Hay, Team GB Chef de Mission, remarked: Team GB hasn't taken a bigger contingent of skiers and snowboarders to an Olympic Winter Games for over two decades – since 1992 – so it's great to now have nineteen of them heading out to Sochi with us shortly."
Of course, part of the reason for the large team is the introduction of new disciplines Ski and Snowboard Slopestyle and Ski Halfpipe into the Games in Sochi 2014.  Team GB have some really strong medal contenders in these categories, including James 'Woodsy' Woods and Katie Summerhayes in Ski Slopestyle, and Jenny Jones in Snowboard Slopestyle.
As Mike Hay continued: "What makes it even more exciting is the fact that we are going into Sochi with a number of athletes with medal potential in events new to the Olympic Programme.  These new events should attract a varied audience and hopefully inspire many more young British people to take up winter sport."
Andrew Musgrave has to be Britain's best medal contender in the discipline of cross-country, after his epic win in Norway just last week, as we reported in an earlier story HERE.  His sister Posy has also been selected for the cross-country team, making it a very much a family affair!
Thankfully, Chemmy Alcott has been selected, despite not being able to compete in the World Cup circuit this season or show her current form at the weekend, as her Cortina comeback race was cancelled due to bad weather, as we reported previously HERE.  It will be Chemmy's 4th Olympics.
Her selection alongside slalom skier Dave Ryding does mean, however, that there is no place for British downhill number one Dougie Crawford.  Nor is there a slot in SkiCross for Emily Sarsfield.
The skeleton teams are yet to be announced, but Lizzy Yarnold, Shelley Rudman, Kristan Bromley and Dominic Parsons are expected to be selected.  Yarnold and Rudman are currently looking to be among our best medal hopes.
The 19 skiers and 10 bobsleigh athletes announced this morning will join those already selected for short track, curling, figure skating and biathlon.  The total squad of 56 Winter Olympians is Britain's biggest since the 1988 Games in Calgary.
Good luck everyone, we'll be cheering you on!