Swiss train derails on the Albula line
A Swiss train was derailed by a mudslide today. 
Our FamilySkiNews.com editor was on another train due to pass along the very same track just a few minutes later!  
Of the 140 passengers on the regional train, just five are said to have sustained serious injuries and a further six suffered minor cuts and bruises.  They were airlifted to a local hospital.  Miraculously no one was killed.
The crash occurred near Tiefencastel, a village less than 30 kilometres northwest of the famed ski resort of St Moritz this afternoon.
Two carriages derailed into a ravine while travelling along the Albula train line – a popular and highly scenic train route which winds and loops over viaducts and through tunnels, in the mountainous region of Graubünden in south east Switzerland after a terrifying crash.  The line is expected to remain closed for the next two days.
One of the passenger carriages fell over 10 metres into the ravine.
The accident happened following heavy rain overnight in what has been a particularly wet summer in Switzerland.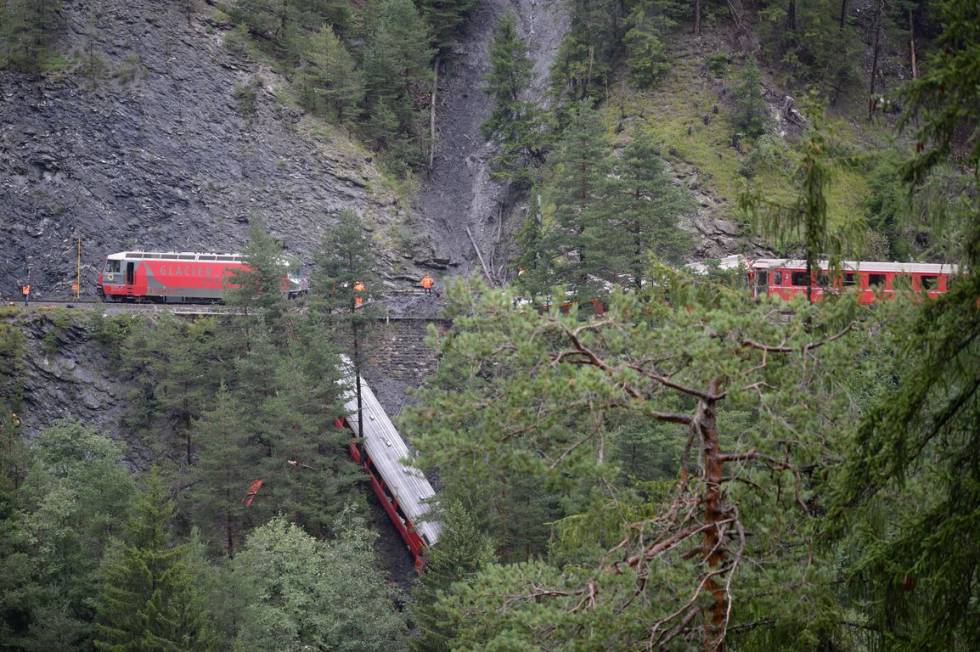 Our editor was travelling on the Glacier Express from Zermatt to St Moritz.  She had already noticed how the river levels in the area were unseasonably high and swiftly-flowing.  Fortunately her train had not left Chur when news of the accident broke.  She was able to complete her journey to St Moritz by diverting via Landquart, the celebrated ski resort town of Klösters and the lower Engadine valley.
The Swiss are in shock as their railway is considered one of the safest in the world.