Swiss Chocolate Heaven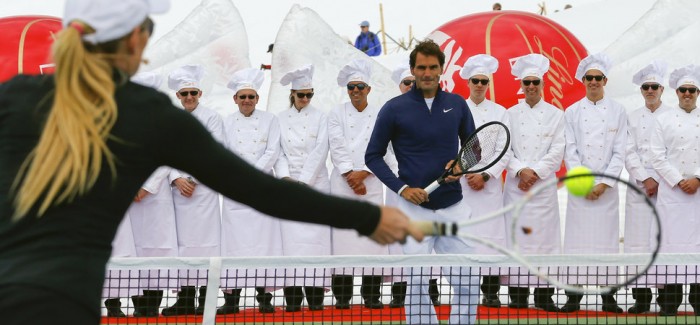 Two world class sports personalities met together at the the top of the Jungfrau in Switzerland today.  
Roger Federer played tennis with American ski-racing legend Lindsey Vonn at the top of the nation's celebrated mountain.  It was a promotion for a new Lindt & Sprüngli chocolate shop at the Jungfrau Railway station, called "Swiss Chocolate Heaven" due to its high altitude.
They played an exhibition match against Vonn on the Aletsch glacier, 3,454 metres above sea level, near the Jungfraujoch, to an audience of Lindt chefs wearing white chefs' hats and sunglasses.
The world number three tennis player, who recently lost in the Wimbledon final to Novak Djokovic, had skyped Vonn shortly after the final – challenging her to a game of tennis.  You can see the video, which was posted on his website here:

Federer is already an "ambassador" for the Zurich-based chocolate maker, and has appeared in various chocolate adverts already, including the famous Lindor chocolate tennis balls commercial:
After the event, Federer said: "I never cease to be amazed by the great ideas Lindt comes up with… Today on the Jungfraujoch was a real highlight for me."
And the winner?… we guess it's Lindt!