Matterhorn project thwarted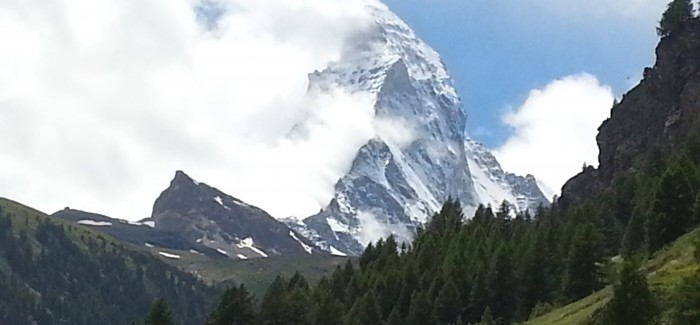 Swiss plans to hire Nepalese sherpas to build a trail to a hut below the Matterhorn have been thwarted.
This week marks the 149th anniversary of the first ascent of the iconic Swiss mountain.
As the celebrated ski resort town of Zermatt prepares for the 150th anniversary next year, they have come across a major hitch. 
Swiss Federal officials are blocking their bid to hire 10 Sherpas to rebuild the trail from the Schwarzesee (a scenic lake at 2, 552 metres) to the Hörnlihütte (the Hornli Hut), a mountain refuge 3,260 metres below the 4,478-metre Matterhorn peak.
The Hornli Hut has been closed for over a year already, due to extensive renovations in preparation for the 2015 anniversary celebrations, when a large number of mountaineers are expected to descend on the mountain town.  It will reopen in July 2015.
Meantime… the Nepalese Sherpas were supposed to start work this week, and the job was scheduled to take two months.  However, the federal migration office has blocked the plans – apparently the Sherpas hadn't received the work permits required to work in the canton of Valais.
Visas for this type of work are only granted if it provides training that cannot be obtained in the home country of the foreigners, which is not the case with the Sherpas, according to the federal migration office.  Also, Nepal should gain something from the work, which is not the case.
The decision has frustrated the Zermatt municipal council, who are now forced to rethink their plans and find a local company to complete the work at short notice.
Here at FamilySkiNews, we will keep a close watch on progress in Zermatt.
In the meantime, let's look at some of the amazing records held by Matterhorn climbers over the years since the first ascent on 14 July 1865 – an expedition led by British alpinist Edward Whymper, during which four mountaineers fell to their deaths on the descent.
First woman to climb the Matterhorn: Lucy Walker, from Britain, in 1871 (just 6 years after Wymper), wearing a long flannel skirt as befitted a Victorian lady!  Punch magazine published the poem "A Lady has Clomb to the Matterhorn's Summit" in honour of her feat:
"No glacier can baffle, no precipice balk her,
No peak rise above her, however sublime,
Give three times three cheers for intrepid Miss Walker,
I say, my boys, doesn't she know how to climb!"
Oldest climber: Ulrich Inderbinen, a local mountain guide from Zermatt, climbed the Matterhorn, aged 90.  It was his 370th ascent!
Fastest ascent: Spanish mountain runner Kilian jornet, in just 1 hour 56 minutes, on 21 August 2013.  You can see a short YouTube clip of his climb here: