Robot ski racing in South Korea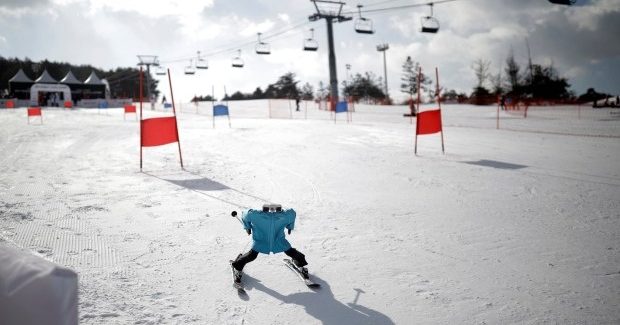 As the world's top winter sporting athletes compete in the PyeongChang Winter Olympics in South Korea, robot skiers are also competing at another South Korean ski resort near by, undeterred by the elements…
At the Welli Hilli Park ski area in Hoensoeng, one hour's drive west of PyeongChang in South Korea, eight teams are competing in the Ski Robot Challenge – a ski race involving specially-programmed robots.
The robots were all different shapes and sizes.  The rules required them to be at least 50cm high, to have the basic form of a human – in other words, able to stand on two 'legs', with joints resembling knees and elbows.
Each robot had to have an independent power system and use the same skis and poles as humans use for skiing.  They were each equipped with cameras and used artificial intelligence to complete the Olympic-style race course with gates in the fastest time possible.
Some wore winter clothing over their metal frames.  Some looked uncannily like humans without heads!
The winner was the Tae Kwon V robot, built by South Korean robotics company Minirobot, and named after a popular South Korean cartoon character.
At 75cm, it was the smallest robot, and took just 18 seconds to ski round five gates and complete the course.
Race organiser, Kim Dong-Uk claimed that he was enjoying showing off South Korea's robotic technology to the world and said: "I think in the future, robots will have their own Winter Games on the sidelines of the Olympics held by humans."
Other Winter Olympic related posts:
Norway's crazy curling trousers are back
GB Winter Olympic medal targets
Tongan shirtless in PyeongChang subzero temperatures
Winter Olympic highlights for TeamGB
Snowboarder Katie Ormerod ruled out of PyeongChang Winter Olympics