LISTEX – the UK's unique ski trade show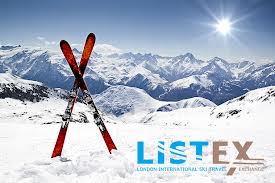 This week marks the start of a busy week in the UK Ski industry, starting with the London International Ski Travel Exchange (LISTEX) today and tomorrow – a series of presentations, forums and lively discussions on various issues facing the snowsport industry, not to mention the invaluable  networking opportunities.
LISTEX is the UK's only trade event exclusively for the snowsports market and it is in its second year, at the London Rowing Club, overlooking the Thames in Putney.
FamilySkiNews reported from the inaugural event in a previous story here. This year, attendance is up 45%, with buyers and suppliers from seven different ski nations, as well as members of the UK travel and snowsports press.
Co-founder and director of LISTEX, James Gambrill remarked: LISTEX is going from strength to strength and we are pleased to see growth in the number of attendees…. We expect several lively forum sessions and, if last year is anything to go by, they will spark up some great debates which can only be healthy for the industry."
The Ski Club of Great Britain will be presenting their Annual Snowsports Analysis at LISTEX later on today at 4pm.  It is the largest piece of research conducted in UK snowsports, focussing on who is in the market, what they do, what they think and what they intend to do next season.  Last year's report raised some surprising statistics.  It will be interesting to see that this year's report will have to say!
Over the two days there are eight forums, including "What can Snowsports learn from other industries", "Emerging vs Established Markets"  and, perhaps most significantly, the final roundtable discussion (tomorrow at 4pm) – 'Growing the Market' with an expert panel drawn from tour operators, media and membership organisations, including Crystal Ski, the Ski Club of Great Britain and Snowsport England.
Here at FamilySkiNews.com, and on our twitter and Facebook pages, we will be reporting on their conclusions and the Ski Club's annual report over the next couple of days.   Come and give us your views too.
Then, on Wednesday, we're off to the Ski & Snowboard Show at Earls Court in London for some more ski news and action!  If you're going too, look out for us and come and say hello!