Ice maidens victorious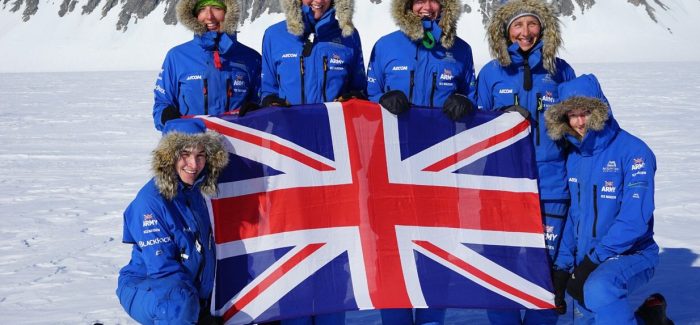 A team of British soldiers has become the first all-female group to cross Antarctica unpowered. 
Starting on November 20, 2017, it took just 62 days for the army's Ice Maiden Expedition to reach the finish line at the Hercules Inlet early yesterday morning.
The group of six women travelled as much as 43 km (27 miles) a day, using only muscle power to pull sledges weighing around 80kg (176lb) in temperatures as low as minus 40F (minus 40C). Their route took them from the edge of the Ross Ice Shelf, over the Transantarctic Mountains, via the Leverett Glacier and across the polar plateau.  They re-supplied their sledges at the South Pole before setting off (via the Thiel Mountains for another resupply point) to their destination – the Hercules Inlet.
During their journey, the team skied over 600km (373 miles).  The expedition was led by Major Nics Wetherill and Major Natalie Taylor of the Royal Army Medical Corps.  The rest of the team comprised Captain Zanna Baker and Lieutenant Jenni Stephenson, and two reservists Major Sandy Hennis and Lance Sergeant Sophie Montagne.
Before they left the region, Major Taylor said: "I have spent the last few days trying to imprint this beautiful landscape in my mind. We have called it home for close to two months now and I will, in a strange way, miss it a lot.  The snow sparkles like there is a layer of pearls on the surface and everywhere you look there is beauty and stillness. The photos just don't do it justice."
Defence Secretary Gavin Williamson remarked on the women's feat: "They are an inspiration to us all and are role models to young people across the country… [they] show that with hard work, courage, and determination anything is possible."