Henry Worsley dies during ShackletonSolo attempt
It is with great sadness that we report the death of Henry Worsley, who was attempting to become the first man to cross the Antactic landmass alone and unaided.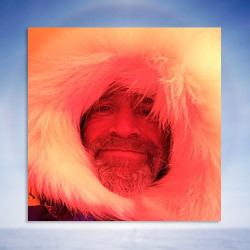 Henry Worsley set out in November, following in the footsteps of Ernest Shackleton, 100 years on from his ill-fated journey, as we reported in an earlier story HERE.  The former SAS army officer was a descendant of one of Shackleton's crew members and was hoping to finish their incomplete voyage.  He was also aiming to raise over £100,000 for the Endeavour Fund, a charity which supports military veterans.
He made an emergency call to be rescued on Day 71, just 30 miles from  his endpoint, having completed a remarkable 794 miles.  So near and yet so far…
In the final report he filed on his daily blog, he remarked: "The 71 days alone on the Antarctic with over 900 statute miles covered and a gradual grinding down of my physical endurance finally took its toll today, and it is with sadness that I report it is journey's end – so close to my goal."
He was airlifted out to Punta Arenas in Chile, where he later died of multiple organ failure.
It is indeed a tragic end to the story of a courageous explorer.  We send his family our deepest condolences.
A few minutes ago, Prince William, Duke of Cambridge, a patron of the ShackletonSolo expedition, made the following tribute to him on Twitter: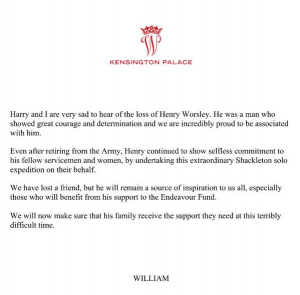 Before the expedition, Worsley had said that, having been a career soldier for 36 years, the focus of his trek was "giving back to those far less fortunate than me".  His wife today said: "Henry achieved his Shackleton Solo goals: of raising over £100,000 for the Endeavour Fund, to help his wounded colleagues, and so nearly completing the first unsupported crossing of the Antarctic landmass.
"A crossing made, under exceptionally difficult weather conditions, to mark the 100th anniversary of Sir Ernest Shackleton's Endurance expedition – his lifelong hero."