The African ski season starts today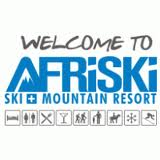 African snow is a rarity.  Nonetheless, the ski season in South Africa began today, as we reported here in our round-up of resorts open for skiing in June!
South Africa's main ski resort, AfriSki , is situated in the Maluti highlands of Lesotho near Cape Town, where snow falls from early June to late August every year.
AfriSki dubs itself the "complete African snow experience". It operates much as a European ski village, with accommodation, ski/boarding equipments, lift passes, ski school and restaurants run by independent operators and the introduction of modern snowmaking facilities and lifts in 2004. 
Unlike most European resorts, the AfriSki terrain is extremely limited, however.   Its main run, serviced by a T-bar lift, is just one km long.  There are also three beginner lifts, providing access to a moderately sized ski area devoted to beginners, as well as an extensive intermediate slope. 
For more experienced skiers and riders, the AfriSki Race Club hosts a series of alpine ski competitions as part of their annual Ski Grand Prix series (27-30 June and 25-28 July 2013) plus the South African National Snowboarding Championships (2-4 August 2013).  The resort also has a flashy, recently-revamped Snowboard Park.   
During the winter season (6 June-1 September), lifts and slopes are open daily from 9am-4pm, with free skiing between 3pm and 4pm for latecomers. 
Over the past week, AfriSki has been making artificial snow ready for today's grand opening.   Currently only one slope is open – the beginner slope, which is 100m long. The snow park and the main slope, served by a T-bar, remain closed currently.
The resort reports: "We have been blessed with cold weather and excellent snow-making conditions in the past days!  This means good news for Afriski!  In addition to the Beginners slope, which is now fully open, we are delighted to announce the opening of the Lower Intermediate, with a skiable length of 200 metres.  All roads are open.  Weather is cold with bright blue skies.  It is a great day for skiing!"