Telegraph Ski and Snowboard Show and print magazine are axed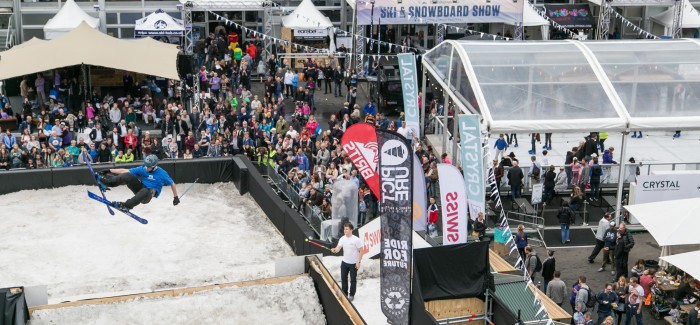 Amid speculation and rumour over the past four days, FamilySkiNews can now confirm – it's official, Telegraph Events really have axed the London Ski Show. It's the end of an era. And they've stopped the print magazine too.    
In a message to some Ski Show exhibitors earlier in the week, Jeff Blackmore, the senior sales executive at Telegraph Events said:
"The Telegraph has taken the decision to cancel the event following a review of its strategy"
"In addition the print magazine will also cease to be published due to our readers preferring to consume online content instead"
"Thank you for the support that you have provided the festival over the years."
For subscribers to the magazine, or if you've purchased early-bird tickets to their 2020 show, which was originally scheduled for 29 October – 1 November, there's a message on their Twitter feed: The Telegraph Ski and Snowboard Festival and Ski & Snowboard Magazine will no longer be running in 2020.  We would like to thank you all for your ongoing support over the years. Full information regarding tickets and subscriptions here: bit.ly/2Q1Wmqc
The London ski show began in 1973 at Chelsea's Royal Horticultural Halls, before moving to Earl's Court in the late seventies and then, with the closure of Earl's Court, to London's Olympia. However, the Olympia venue never really took off, and so the show was reinvented for October 2015 as an outdoor festival – at Battersea Evolution in London's Battersea Park.
It seemed a good idea, as then Marketing Manager for the Show, Suzanne Bayliss explained at the time: "We wanted to create something that truly brings the mountains to life…Our new location allows us to create an authentic Alpine village, within the picturesque surroundings of Battersea Park…with world-class mountain street food… an authentic mountain menu whilst ensuring that prices stay reasonable.
"The indoor/outdoor hybrid that Battersea gives us allows us to offer live music, live comedy and an Alpine village experience which could never be achieved in an indoor venue such as Earls Court."
What seemed a good idea on paper, turned out to be the kiss of death to the Ski Show.
Why?  Well, Battersea Park was really hard to reach by public transport, with no tube stop near by, and there was already a history of dwindling attendance numbers in the previous few years. In fact, last year's three-day event had fewer than 17,000 visitors, even though it took place in the October half-term. Poor ticket sales have led to fewer exhibitors… and so this autumn festival has now ground to a halt.  The recent demise of the Birmingham, Glasgow and Manchester shows means that, going forward, there is now no major snow-sports show in the UK.
Arguably, the Telegraph newspaper's readership is not really the typical snowboarding festival crowd.  And the paper's feeling the strain – late last year, the owners of the Telegraph placed the newspaper on the market.
Combine all this with a few winters of inconsistent snow, global warming, flight shaming and so on… for a while now, the ski industry has been questioning the event's long-term future.  Indeed, the long-term future of winter sports has been placed increasingly in the spotlight as some resorts failed to open this year due to lack of snow.  The festival's website https://skiandshowboard.co.uk/ simply now states: "Unfortunately, The Ski and Snowboard Festival will not be taking place this year.  On behalf of the whole team, we would like to thank you for your support and your full refund will be issued shortly.  We will continue to create and publish quality ski content on our channel, where you can stay up to date with the latest from the mountains, the best places to ski and what to wear this season at telegraph.co.uk/travel/ski
Here at FamilySkiNews, we are greatly saddened by the show's demise.  From an industry point of view, it was always a great season starter, catching up with friends and colleagues from the ski world to discuss the latest resort developments, trends and gear. They were a major fixture in many families' diaries. Telegraph Events vividly summed up the final show on their webpage: The Telegraph Ski & Snowboard Festival 2019 brought us an epic four days of pro-athletes, live music, roller skiing, street food galore, skateboarding demos, axe throwing, curling and loads more, all washed down with some award winning beer! 
It was fun for families at half-term – trying out out ice-skating, curling and roller-skiing, visiting the ice grotto and marvelling at the stunts performed on the real snow kicker, Mount Battersea, although Olympia and Earl's Court venues had offered a much fuller family experience, as we reported HERE and HERE.
And let's not forget the legendary 'schnapps o'clock' at 13.13 and at 16.16… need we say more?
We weren't alone in our support of the Show. On the Facebook page of Planet Ski – the first UK ski website to break the news – we've read the following remarks:
"back in the day the ski show was an epic social event."
"Wow, I've been attending the show for as long as I can remember and many fond memories,I first went in 1985 and have been practically every year since .Very sad to see it go."
"very much the end of an era. Such a shame."
"Very very sad – was planning a family trip there this year. Bought my first ski boots and blades at a show circa 16 years ago"
But also, on the Snowheads forum and elsewhere on social media:
"It was dying…even before the nutso decision to move to Battersea and a location not readily accessible by tube…."
"It's sad that it can't be made to pay. It really fell apart when they ended the big retailers like Snow and Rock and Ellis Bringham with large stands both to sell off last years kit and introduce the new kit."
"Hardly surprising as it's been getting smaller and smaller every year – will miss the Demi's and the drinks (even if they were ridiculously priced!)"
"Ironic really brexit supporting paper ran a show for an industry that has a high number of seasonal workers who could be impacted by brexit."
"The latter shows…had the vibe of a good get together for industry mates rather than benefit for the paying punters."
"Recent [shows] were expensive for food and drink and no deals to be had; it turned into a boring advertising fest. Not surprised it's closed."
The writing was on the wall.  And so, in this week of shocking news for the ski industry, as we see the loss of Flybe from regional airports and the closure of a number of further ski resorts across the Alps and in Scandinavia following Italy's corona virus shut-down two days ago (as we reported HERE), we can add the loss of The Telegraph Ski Show and at least the print version of the Telegraph Ski Magazine.  What next?…
To console our readers in difficult times for the snow-sports world, we leave the last word to Henry Druce, aptly the Editor of the Telegraph Ski Magazine, who claims despite the demise of the Ski Show: "There will always be Schnapps O'Clock."