Fun, fun, fun… at the London Ski Show
Editor, Teresa Fisher reports…
Yesterday, I took my kids (aged 10 and 11) to the opening day of the London Ski and Showboard Show.
As I had a full diary of press meetings, I needed them to entertain themselves, so I set them a challenge – to see how many different activities they could fit into a day!  Here's what they got up to…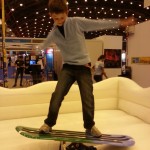 First up was a balance test, courtesy of Action Outdoors.
Followed by a few scooter tricks on mini ramps and grind boxes, thanks to ScootFest.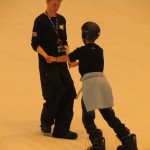 George had a free snowboarding lesson, with an instructor from The Snow Centre, Hemel Hempstead…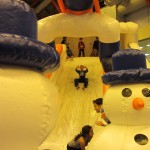 … while Timothy went sliding on the bouncy castle.
They met some funny people  (BTW we loved your outfits and your socks, Sock Mine!)…
… tried on some funny hats….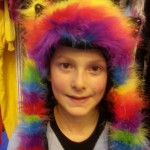 … and some cool helmets.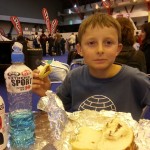 They even had time for a swift packed lunch.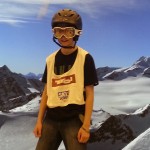 After lunch, George visited the Tirol for a photo opportunity…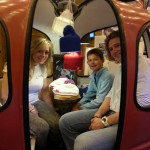 … then rode a cable car with a couple of Team GB Winter Olympic medal hopefuls (thanks Emily Sarsfield and Ed Drake)…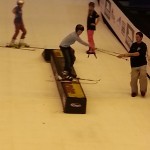 … followed by an hour-long FREE lesson getting to grips with some ski slopestyle, courtesy of The Snow Centre's instructors,  cheered on by Aimee Fuller, a member of team GB's Snowboard Slopestyle squad.
Timothy whiled away the afternoon ringoing….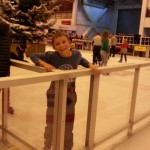 …ice-skating…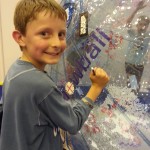 … signing the giant Slide2Sochi Snowball, to wish all our Snowsport athletes good luck at the Winter Olympics.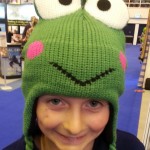 … and trying on more funny hats!
A bit more bouncing…
… was followed by a lesson in curling from the pros of the GB Olympic curling team – to end the day…
EXHAUSTED!
The whole day cost just £5 (entry for my older son, under 11s go free).  They were exhausted on the train home but elated too from having such a fun time.  It goes to show there's no better place for a day out than the London Ski Show.
Have you taken your kids there yet?  The show's on today (31 October) from 11am-9pm; tomorrow (1 November) from 11am-7pm, Saturday (2 November) from 10am-7pm and Sunday (3 November) from 10am-6pm.
As you can see, it's a brilliant day out for all the family.  Even if you've never skied before, go and enjoy some snowsport fun!